Round Rock Homes and Resources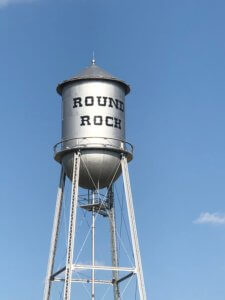 Round Rock Texas https://www.roundrocktexas.gov/ is located just north of Austin Texas and straddles IH 35, the major roadway going through Austin Texas. Round Rock is a vibrant, growing, Central Texas City with many recreational activities, medical care, shopping, services, restaurants, neighborhoods and more that make it a great place to live! Kalahari is a wonderful new recreational center and resort, great for conferences too. https://www.kalahariresorts.com/texas/ Kalahari is located across from the wonderful Dell Diamond https://www.milb.com/round-rock at 3400 E Palm Valley Blvd, Round Rock, TX 78665, Triple-A Minor League Baseball affiliate of the Texas Rangers major league baseball team, another great place for fun events. Round Rock has ample hospitals and medical care with 3 hospitals, numerous clinics and teaching centers. Round Rock Texas has an amazing school district too! Check out Round Rock ISD https://roundrockisd.org/ Some great shopping at the Round Rock Premium Outlets https://www.premiumoutlets.com/outlet/round-rock/stores
Dell Computers
Founded by Austin Texas's Michael Dell, Dell computers corporate world headquarters is in Round Rock Texas. Dell is a major employer in the Round Rock area. The 2.1 million square foot Round Rock campus serves as Dell's global headquarters and is now totally powered by Waste Management landfill gas and wind energy, a green energy, carbon neutral strategy.
Round Rock History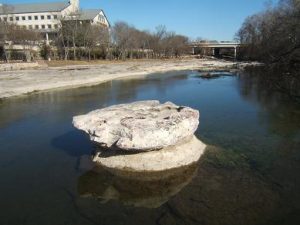 Round Rock city was originally called Brushy. The initial settlement of Brushy was located near Brushy Creek right by the round rock shown in this picture. Round Rock was on the old Chisholm Trail. You can see ruts of the old wagons in the rock of the creek bottom on Chisholm Trail where the famed round rock lies in Brushy Creek. The outlaw Sam Bass is also associated with Round Rock spending his final days there. His gravestone can be seen in Round Rock Cemetary.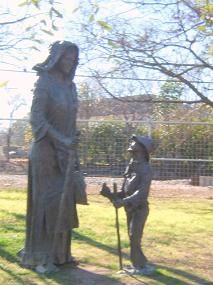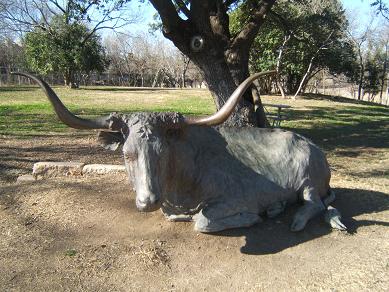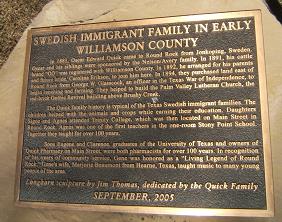 More on Swedes in Texas
Round Rock TX Restaurants
Gumbo's is a great Cajun restaurant on 620 west of IH-35, although somewhat formal. Razoo's Cajun Cafe is by IKEA on 1431 at IH 35. Louisiana Longhorn Cafe is also in Downtown Round Rock for Cajun and seafood.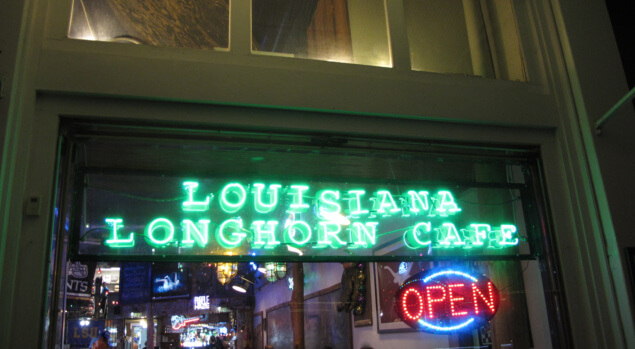 There is also a Rudy's BBQ on Interstate 35. Pacific Star Oyster Bar is a seafood place, Salt Grass for steaks and of course the Salt Lick Bar B Q restaurant by the Dell Diamond on 79 at 3350 E. Palm Valley Blvd. The 620 Cafe and Bakery on 620 is also good. Luby's is a cafeteria at 2000 South Interstate 35. Round Rock has many more great restaurants as well.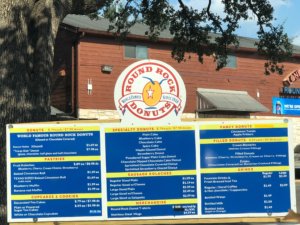 Looking for something sweet to start your day off? Round Rock Donuts is as delicious as it is quaint! Located at 106 W Liberty Ave, Round Rock, TX 78664 -this is one of my favorite places to start my day off.
Round Rock TX Bats
Round Rock has a huge urban bat colony under IH-35 known as the McNeil Bridge Bats. In the Summer they fly out about 8:20pm. In about 8 minutes they will be flying out in full force- swirling streams of black bats flying eastward en mass to eat lots of mosquitos and other insects. They are under the overpass before 620. When heading north on IH 35, look for them just before exit 252.
Round Rock TX Farmers Market
Brushy Creek Farmers Market is open every Saturday offering fresh lemonade, organic produce, eggs, grassfed beef and pork as well as free range chicken.
Round Rock REALTOR®
Call Betty Saenz Round Rock Real Estate Agent at (512) 785-5050 or contact me by e-mail