Paloma Lake Homes For Sale
Paloma Lake – Round Rock TX 78665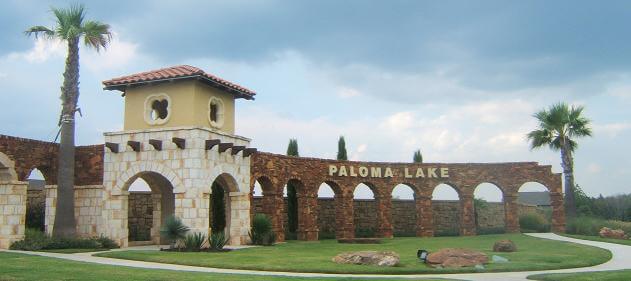 Paloma Lake is a beautiful master planned new home community in Round Rock, Texas located just east of IH 35 and just west of the new 1 30 Expressway. Located in Williamson County, Texas, Paloma Lake has a beautiful tree-lined street drive in. You will be impressed with the landscape, fishing lake, trails and NEW Homes at Paloma Lake in Round Rock, Texas. New home construction in Paloma Lake began in 2007. Located in Austin MLS area RRE or Round Rock East.
Paloma Lake NEW HOMES
Paloma Lake NEW HOMES are built with all the latest design features and materials like Open Floor Plans, second story porches, sitting rooms off the master bedroom and more. Paloma Lake has homes with 1,500 to more than 4,300 square feet of living area that were originally from the $160's to the $400's. Current prices are available in the map below.
Paloma Lake NEW HOME Builders
Paloma Lake NEW HOME Builders include Standard Pacific Homes, David Weekley Homes, Plantation Homes, Ashton Woods Homes and Grand Haven Homes. Standard Pacific is building on 53 foot lots as well as 60 foot lots in Paloma Lake.
Paloma Lake Schools
Round Rock Independent School District serves Paloma Lake children. Linda Herrington Elementary School at 2850 Paloma Lake Boulevard inside the Paloma Lake neighborhood is now complete. Hopewell Middle School at 1535 Gulf Way, Round Rock and Stony Point High School at 1801 Bowman Road, Round Rock.
Paloma Lake Real Estate Agent
Call Paloma Lake Real Estate agent Betty Saenz to see NEW HOMES in Paloma Lake. Betty can show you around, set appointments as well as show you other New Home Communities if Paloma Lake does not meet your needs or just to make a more informed decision. Betty Saenz will be your own personal Buyer's Representative to look out for YOUR NEEDS. The builders salesperson represents the builder only, not YOU, the buyer. This does not cost you a thing to have professional representation by a knowledgeable, experienced agent. Call Betty Saenz REALTOR at (512) 785-5050 or e-mail Betty Saenz
Paloma Lake Amenities
Paloma Lake Amenities include the swim and community center, hiking trails, large treed areas, a fishing lake, a fishing camphouse, fishing pier and more make you feel like you are at a resort.