Georgetown Texas Homes for Sale
Georgetown Texas is a wonderful city in Texas, just north of Austin Texas. Georgetown is the Country Seat of Williamson County. My family attended Georgetown's historic Southwestern University just after the turn of the century, so I have a lot of history there. Here is my grandmother and her cousin at Southwestern.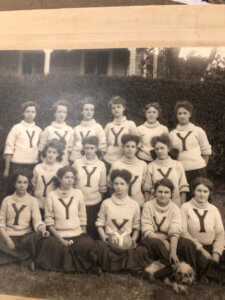 The north and south San Gabriel rivers converge in Georgetown and flow into Granger Lake a few miles away. Lake Georgetown is very beautiful and has miles or trails, boating, fishing, hiking and camping opportunities. Georgetown has its own Airport and with the wonderful 130 Expressway, the Austin Bergstrom International Airport is a short drive away. You will love the historic Georgetown Square. It is one of the most well preserved and vibrant town squares in Texas. There are many fine restaurants, great medical care, shopping, schools, golf courses, homes and ranches in Georgetown Texas. I am a member of the Native Plant Society of Texas' Georgetown group as well as a member of Georgetown's Goodwater Texas Master Naturalist group.
Call, text or e-mail Betty Saenz to buy or sell a home, lot, acreage property or ranch in the Georgetown Texas area.
Check out my enchanting Georgetown listing for sale at 1505 S. Pine