Round Rock Texas History
Round Rock Texas History
Trinity College, Round Rock TX
My family has a lot of history in the Austin Texas, Round Rock, Texas area beginning about 1871 when this part of my family came over from Sweden. My grandfather, Oscar Waldemar Sandstrom is the man pictured sitting 4th from left in the picture I inherited from my Mom below. He became an Attorney at Law in the Austin, Texas area working in bankruptcy law and also partnering with David Gracy at Gracy Title. Both Stamford, Texas and Round Rock, Texas were competing to get Trinity College but Round Rock won. Trinity Lutheran College opened in Round Rock in 1906, but was short lived, closing at the end of the 1928 – 1929 school year and soon merged with Texas Lutheran College in Seguin. The bell from Trinity College was moved to the Palm Valley Lutheran Church in Round Rock on Highway 79.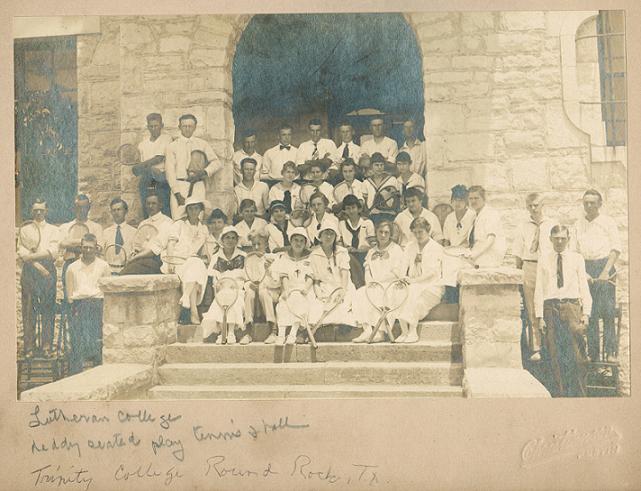 Please tell me if you recognize anyone in the 1915 photo above of the old Trinity College in Round Rock. I'd love to know more names than just my grandfather's! My mother's handwriting on the photo.
Historically, Round Rock was called Brushy. Only later did it come to be called Round Rock after the large round shaped rock in Brushy Creek which was a marker as a safe place to cross by wagon.