Austin Equestrian Community Homes For Sale. Horse Properties For Sale
window.dataLayer = window.dataLayer || [];
function gtag(){dataLayer.push(arguments);}
gtag('js', new Date());
gtag('config', 'UA-76450306-2');
Austin TX Equestrian Communities – Austin TX Horse Properties
Let me know what you need in an Austin TX Horse Property and I will find it for you. I also can market your Austin TX horse property for you. Just call me Betty Saenz at 512-785-5050 or e-mail Betty Saenz. Horse Property Buyers can find a horse property in the Austin TX Real Estate market for under $100,000. to up over $49 Million which includes waterfront to the middle of Lake Travis. There are many, many exquisite luxury horse properties in and around Austin TX with fabulous homes, showplace barns, covered arenas, dressage rings and more. Some Horse Properties are in a neighborhood with trails to ride on and or a central barn.
I love to show horse properties because I meet lots of new friends, both equine and human!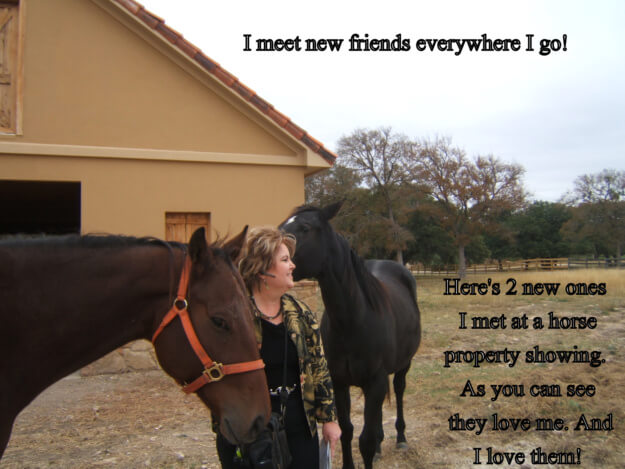 Florence TX 76527 Horse Properties
Florence – Texas  is NW near Georgetown TX. The Vineyard at Florence is a wonderful upscale, true Tuscan archtectural style, equestrian community in rural Florence, TX on FM 487. A thirty acre vineyard, event center, polo field, riding trails and a huge pasture are among the amenities. Salado Creek Estates off CR 233 is horse friendly. Highway 195, the Killeen Highway is the beginning of the new Toll Road 1 30 which goes to the Austin Airport. Killeen has the Killeen – Ft. Hood Regional Airport (GRK) with American Airlines, Delta and Continental Connections. Also past Florence and near Killeen is the fabulous Parrie Haynes Ranch for 1000's of acres of trails and scenic horseback riding. There have been listings like a Florence ranch with Berry Creek frontage as well as historic homes in the Florence TX horse properties for sale.
Briggs Texas Horse Properties – 78608
Briggs Texas, just north of Florence on Highway 183 has many fine ranches and horse properties. Burnet ISD serves the children of Briggs, Texas.
Jarrell Texas Horse Properties – 76537
Jarrell TX – Spears Ranch on Salado Creek is a wonderful gated equestrian community just north of Georgetown TX and Florence TX. Some homes back to Salado Creek. There are more than 10 miles of hiking and horseback riding trails. Spears Ranch on Salado Creek has site built homes, there is a mandatory HOA, deed restrictions and architectural controls. Jarrell is north of Austin near Florence and Georgetown, TX. Take I 35 north to the Jarrell exit, go west or left under the highway and then go south on IH 35 frontage. Next take a right on FM 487 then turn onto Spears Ranch Road. Street names in Spears Ranch are Appaloosa Cove, Palomino Cove, Spear's Ranch Road. There other nice acreage homes for horses around Jarrell as well.
Spicewood TX 78669 Horse Properties
Spicewood Texas is a great little town in the 78669 zip code. The Reserve at Lake Travis in Spicewood,TX (South west of Austin) captures the best of both worlds- equestrian and waterfront. Rivercliff off 71 in Spicewood is also an area where horses roam on fine estates and have access to riding trails along Lake Travis. The Ranch at Windemere, Paleface Homesteads, gated Paleface Ranch and Lake Oaks Ranch also merge waterfront and waterview with equestrian use. Double Horn and Deerpath Ranch are other areas that allow equestrian use. Granite Ridge off Hwy. 71 is an upscale gated equestrian community.
Bee Cave TX 78738 Horse Properties
Bee Cave Texas – Homestead is an equestrian community with Lake Travis ISD schools. Bee Cave is right by Lakeway and has the beautiful Galleria Shopping area on Highway 71.
Marble Falls TX 78654 Horse Properties
Marble Falls Texas– Burnet County and Travis County – Chimney Oaks at Lake Travis, Muleshoe Bend, the gated neighborhood of Vista Del Rio, Paradise Cove. Marble Falls is north and west of Austin, TX. It is a beautiful lake area.
Horseshoe Bay TX 78657 Horse Properties
Horseshoe Bay TX – Llano County, Trails of Lake LBJ or now called The Trails of Horseshoe Bay is a gated equestrian community with miles of trails near Marble Falls and Kingsland, TX in Horshoe Bay TX.
Austin Texas Horse Properties
Austin TX – South west Austin Area : Polo Club at Rooster Springs allows 1 horse per acre but you have the option of boarding at the stables. Great horse amenites including indoor and outdoor arenas, multiple barns, instructors, etc. Also see Key Ranch at the Polo Club. Madrone Ranch has stables, arena & 70+ acre equestrian greenbelt with about 4 miles of riding trails and homes from the $400's and up to several million. Meadowfox Estates is a gated horse community. Homestead off Bee Caves has a bridle trail. Nutty Acres in Hayes County is another neighborhood. Perkins Valley neighborhood has riding trails along Onion Creek. Scenic Brook Estates and Silver Spur Ranchettes allow horses. Bear Creek Estates in Hays County allows horses and is near Circle C golf. Delvalle neighborhood near E. Slaughter Lane is next to miles of city owned trails. The Winding Trails neighborhood off FM 973 is about twenty minutes to downtown Austin and has forty foot wide riding trails winding throughout the subdivision with two horse barns. High Vista on Spicewood Springs Road has great Hill Country views.
Westlake – West Austin Area Travis County : Angelwylde off of Bee Cave Road at Patterson is a gated community with four to twenty-two acre lots and Eanes ISD. Some horse properties in West Lake Hills in old Westlake 78746 may have views of the beautiful Wild Basin Preserve.
Round Mountain TX 78663 Horse Properties
Round Mountain TX near Highway 71 and Highway 281 in Blanco County has many fine horse properties and ranches.
Blanco TX 78606 Horse Properties
Blanco Texas in the Texas Hill Country has some great horse properties with sweeping Hill Country views. The Landing at Blanco is one great 1,100 acre gated, equestrian neighborhood with a 3,400 foot paved runway and a 58 acre common area with amenities like a horse barn, miles of riding trails, lighted arena, lodge, guest cabins, tennis courts, swimming pool and fishing pond.
Johnson City TX 78636, Cypress Mill, TX Horse Properties
Johnson City Texas the home of Lyndon Baines Johnson and Cypress Mill TX 78663 in Blanco County nearby have many horse properties. Tierra Manana is a gated community that allows horses and is under a Wildlife Exemption for low taxes. This rural area is USDA Home Loan eligible as well. Byrd Ranch Estates is a deed restricted neighborhood with great Hill Country views. There are many acreage properties and ranches in this area.
Fredericksburg TX 78624 Horse Properties
Fredericksburg Texas in Gillespie County has many fine horse properties and ranches for sale. Fredericksburg Texas as an old German settled town is a place that tourists love.
Bulverde Texas Horse Properties 78163
Beck Ranch Estates is about 1 hour from Austin TX and 15 minutes from San Antonio, TX.
Hutto TX Horse Properties
Heritage on San Gabriel is a gated equestrian community located off of County Road 131 and FM 1660. Windmill Ridge allows horses as well.
Round Rock TX Horse Properties
Round Rock Texas has many horse properties. Round Rock Holder subdivision on Gattis School Road.
Taylor TX Horse Properties
I just SOLD this beautiful rural Taylor TX Horse Property on 10+ acres with an Agricultural Tax Exemption for LOW TAXES in place. A 2003 custom white stone home, big insulated metal barn, entry gate, pond and covered loafing area was on the market for a list price of $375,985. No restrictions or zoning so this would make a good company or church retreat, Bed and Breakfast, manufacturing facility, etc.
Taylor Texas is a farming community east of Austin TX which includes Battleground Creek Country Estates on CR 405 but you can ride horseback along the fields and turn rows. The blackland soil around Taylor can grow anything.
Thrall TX Horse Properties
Thorndale TX Horse Properties
You may find a great deal on a horse property east of Austin TX in Thorndale TX Milam County. There are many high acreage horse properties and some on the San Gabriel River.
Lexington TX Horse Properties
Lexington TX is located east of Austin TX in Lee County. Less than an hour from Austin you can find inexpensive to luxury properties in Lexington TX. I had a great Lexington Texas horse property listed FOR SALE a few years ago with a 3 bedroom, 2 bath home, a 2 car garage, large metal barn, Summer barn, storage buildings and more all on 4 acres for only $213,900. Go see 1042 Drewry Lane, Lexington, Texas 78947.
Elgin TX Horse Properties
Elgin Texas 78621 in Bastrop County has horse properties and you may find a horse property with a beautiful restored historic home.
Mcdade Texas Horse Properties 78650
Mcdade Texas is located off of Highway 290 east of Austin TX. There are many properties with sandy loam soil in this area.
Austin TX Waterfront Horse Properties
Among the waterfront neighborhoods that are waterfront and allow horses too are Coplin's Cove in Jonestown, TX and Spicewood's Reserve at Lake Travis, Rivercliff. The Trails of Horseshoe Bay. Paradise Cove in Marble Falls. Call me at 512-785-5050 and I can help you-
Cedar Park TX Horse Properties
Shenandoah, right in town in Cedar Park, allows horses. Another similar neighborhood is right accross from the 1890 Ranch shopping center off of Starwood Drive. which includes Skyview St., Stardust Dr., Sunset Terrace, Sunrise Terrace and Moonlite Drive.
Leander TX 78641 Horse Properties
Leander – Texas – in the Northwest Austin, TX area in Williamson and Travis counties: Horse Properties may be found in Roundmountain Oaks, Ridgmar Landing, gated Lone Mountain Ranch, Lonesome Valley, Mackenzie Meadows. Apple Springs, Honeycomb Hills and Hidden Mesa off 2243. Stonehurst in Leander off CR 175 has homes on acreage lots that allow horses. Williamson County Regional Park is across from Stonehurst. Leander is adjacent to Cedar Park and Round Rock, TX. Silver Creek Ranch is in rural northwest Leander off 279 aka Bagdad. Apple Springs may have some areas suitable for horses. The Trails End area including Case Acres Estates off 1431 by Lake Travis. Off of Wire road there is one right now. Green Park and Red Wagon Ranch also have horse properties.
Liberty Hill TX Horse Properties
Liberty Hill has many horse property areas. Liberty Hill's gated Sundance Ranch has horseback riding trails. Rio Gabriel off 1869 is horse friendly. Stone House Estates is horse friendly and offers GREEN homes as well.  Carriage Oaks off CR 200 also allows horses as does Durham Park off FM 1869 and Country Living Estates also off FM 1869. Wild Country Ranch off Ronald Reagan and CR 258; High River Ranch, Springcreek Ranch
Georgetown Texas Horse Properties
Georgetown TX –  in Williamson County TX has Twin Creek Farms off FM 972 is a 350 acre gated equine community with an equestrian center, community boarding stable and miles of riding trails. The Ranches of Sonterra community off CR 103 is a high end equestrian community along the San Gabriel River. Clark and Miller, Farris Ranch, Harmony Forest, Hawes Ranch, Oakcrest Ranchettes, Little Creek Acres, Live Oak Park, Logan Ranch, Lost River Ranches, McQueen, Twenty-Nine Ranch, Twin Creek Farms, Twin Springs, Western Hills Estates, Whisper Wood, Whitetail Estates and Glazier Ranch are others. San Gabriel River Estates (also Hutto) enjoys a common park along the river with riding trails for horses. Near Georgetown in Bartlett, TX is Daum Estates with an eighteen acre common riding area and stock pond. East Georgetown Horse Properties also include the Weir TX area. I have a great horse property for sale at 1001 West Bend Drive Georgetown Texas. 4 bedrooms, 2 and a half baths on over 5 acres. There is also a 5 acre tract adjoining it in case you want more land.
Granger, TX – Estates of Walburg is a horse friendly neighborhood with NEW construction minutes from Georgetown, TX.
Bertram TX Horse Properties
Whitewater Springs also known as The Preserve at Balcones Canyonlands in Bertram on 1174 west of Liberty Hill is a restricted gated, equestrian subdivision with acreage lots, site built homes only, community swimming pool and places to ride in the community. Bertram TX has many acreage homes and ranches. Their HOA just tightened up their horse guidelines.
Burnet TX Horse Properties
Wolf Creek Ranch in Burnet TX is a gated ranch community with an Equestrian Center, riding trails as well as a private Day Dock on Lake Buchanan.
Elgin Texas Horse Properties
Elgin – Bastrop County Southeast: Timberline Estates. I sold an Elgin TX 3 bedroom, 2 bath home on 2.113 acres suitable for horses at 22102 Ann Showers Drive, Elgin, TX 78621. It was completely fenced and has a nice mix of open land and woods.
Buda TX Horse Properties
Buda – South : Ruby Ranch
Bastrop County TX Horse Properties
Bastrop TX 78602 is home to many fine horse properties. Cedar Creek's Colorado River Estates is only about two miles to the McKinney Roughs riding trails. River Crossing is an equestrian community with bridle paths. Many Bastrop TX horse properties have Colorado River frontage.
Paige, near Bastrop enjoys riding trails around the 16 lot Cookston Trails neighborhood.
Smithville TX Horse Properties
Smithville TX in Bastrop County also has horse properties including La Reata Ranch off of S. Highway 304.
Rosanky TX in Bastrop County has horse properties and cattle ranches. There was one in ABOR MLS that had its own private Golf Course. I SOLD a great Horse Property in Rosanky at 2884 S Highway 304 that had a beautiful barn, an arena, a saddle shop, garage and a 3 bedroom, 2 bath home all on great sandy loam soil.
Manchaca – South of Austin TX: Arrowhead Acres
Kyle – South of Austin TX: Indian Hills Ranch has large acreage tracts
Driftwood Texas Horse Properties
Driftwood TX – South of Austin TX : The gated equestrian neighborhood of La Ventana has riding trails; Onion Creek Ranch, Lanier Ranch, Woodland Estates. Panther Creek is a gated acreage community where many people have horses and or exotic game. Vineyard Ridge is a small new gated community of luxury acreage homes with stunning views. Liberty Ranch offers 100 acre parcels which are part of a  1559 acre hill country ranch.
Dripping Springs TX Horse Properties 78620
Dripping Springs Texas in Hays County – Southwest of Austin includes Madrone Ranch, Hurlbut Ranch West, Creek Road Ranch, Dripping Springs Ranch, Indian Point, Kirby Saddletree Ranch, Rancho Bella, River Oaks Ranch is another neighborhood. Springs Ranch, Settlers Point, Sunset Canyon. Kirby Springs Ranch is a gated equstrian community off of 290. Chama Trace is a gated community that allows horses. Estates of Barton Creek on Bell Springs Road is nice acreage tracts. The Ranches at Hamilton Pool is a new gated community that is offering bring your own builder acreage tracts from 23 to 400 acres. Dripping Springs in Hays County TX includes various areas where there are horse properties.
Wimberley TX Horse Properties
Wimberley Texas is a very popular town in the Texas Hill Country near San Marcos and Dripping Springs south of Austin TX. Wimberley Texas horse property neighborhoods include Deer Run Estates, Ledgerock, Mountain View Estates, Mustang Valley Ranch, Rainbow Ranch and River Mountain Ranch. You might get a property with a great view of the Devil's Backbone.
San Marcos TX Horse Properties
San Marcos TX – Hays County – South of Austin TX:  Cielo Ranch, Bridle Wood Ranches, Summer Mountain Ranch and the gated Trails End Ranch
Canyon Lake – Comal County – South of Austin TX: Lakeside development on the north side of Canyon Lake is both waterfront and equestrian with Hancock riding trails.
Listed above are just a few horse friendly neighborhoods with horse properties. There are over 425 homes where you can have a horse in the Austin MLS as of 2-3-12 all Betty Saenz, experienced horse person to help you find the right horse home – (512) 785-5050 or e-mail Betty Saenz
My name is Betty Raetzsch-Saenz and I've been riding horses since I was knee high to a gate post at our old ranch, the 1000 acre Raetzsch Ranch in the Sand Hills near Seguin, TX in the Sand Hills. I love horses and Horse Properties!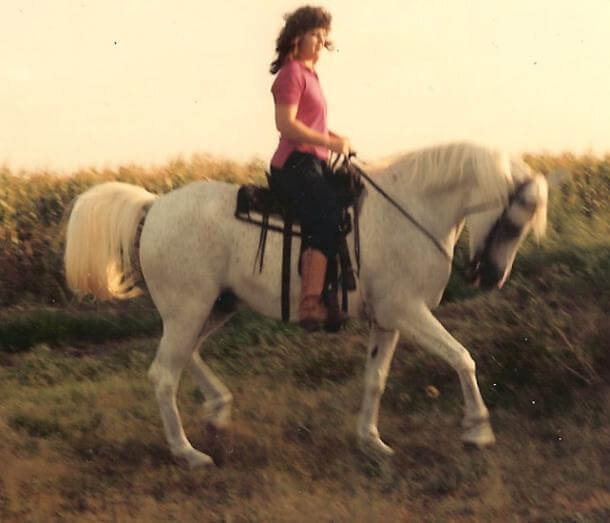 This is me on my old gelding Shamar, a registered Half Arabian with 3/4 Arabian blood with thoroughbred and quarter horse thrown in for good measure at the TX working farm where I lived. I bought him at 6 years old in 1978 from the Dallas area. Raffles bred, Shanaraf was his registered name. He lived to be 36 years old, going to greener pastures in the Fall of 2008 serving his last years at Equibloom therapeutic riding in Manor, TX. I taught him to drive, side pass and shoulder in. A kind spirit and great mount who will live forever in my heart.
Horse Property Specialist
Betty Saenz REALTOR® Horse Property Specialist (512) 785-5050 Contact Betty Saenz REALTOR® by e-mail. Betty Saenz is a Native Texan whose family has been in Texas from before it was The Republic of Texas and in the Austin TX area since 1871. Betty is licensed to practice Real Estate anywhere in the State of Texas and can help you find the Texas Horse Property or Texas Ranch you want.