Elgin Texas Homes For Sale
Elgin Texas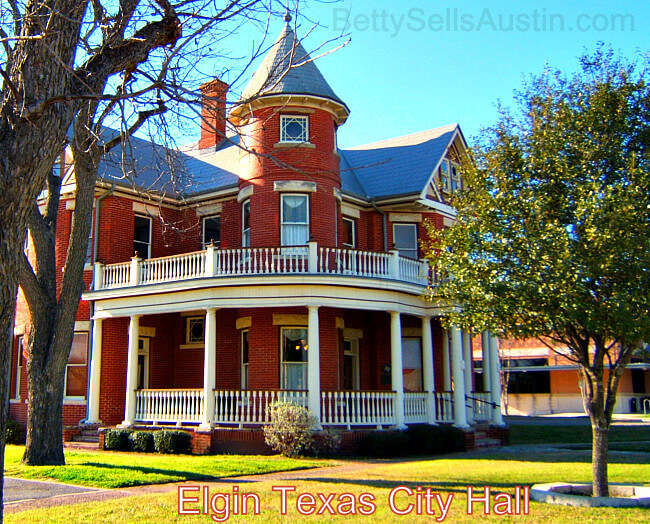 Elgin Texas is a historic small town of about 8,000 people near Austin, Texas with many beautiful old homes and a historic downtown. Elgin was established in 1872 and the city offices are located at 310 N. Main Street in a restored 1906 historic home as pictured above. Elgin is famous for its bricks and Hot Sausage. Elgin Texas has been recognized as the "Brick Capital of the Southwest" by the Southwest Brick Institute because Elgin has been home to the manufacture of bricks since the 1800's and produces 267 million bricks annually. Acme Brick Company, Hanson Brick and the Elgin Butler Company all make bricks in Elgin Texas. The Southside Market and Barbeque in Elgin Texas has made Elgin Hot Sausage for more than 125 years since Henry Meyer came over from Germany 4 generations ago. Elgin has an annual Hogeye Festival the 4th Saturday in October as well as many other celebrations, parades and community events.
The Elgin Depot Museum at 14 Depot Square offers many different exhibits, a Veterans display as well as an extensive collection of photographs and archives, a Gift Shop and much more. I am planning to visit for geneological research.
Homes in Elgin
Elgin Texas Location
Elgin, Texas is located on Highway 290 just northeast of Austin, Texas. Elgin is only 19 miles east of Downtown Austin Texas and only 30 minutes from Austin's Bergstrom International Airport or AUS. Elgin TX addresses include properties in both Bastrop and Travis Counties. Elgin is just a few miles east of Manor Texas.
Elgin Texas Shopping
Elgin Texas currently has an HEB grocery store. HEB is a Texas grown grocery chain. Walmart will soon break ground in the Spring of 2012 on a 150,000 square foot store to be located at Highway 290 and Highway 95 North. There are many restaurants and cute shops as well. Elgin has an ongoing Farmer's Market at Veteran's Memorial Park every Saturday from 10:00am to 2:00pm.
Elgin Texas REALTOR
Call Betty Saenz Elgin, Texas REALTOR at 512-785-5050 or e-mail Betty Saenz to see HISTORIC ELGIN HOMES, horse properties and ranches in Elgin, Texas. I work on my own website and take all my own photos.
Elgin Texas Featured Property
22102 Ann Showers Drive, Elgin, Texas 78621 MLS # 2018792 in Austin MLS area MA was offered at $124,900 and is SOLD. This three bedroom, two bath home featured listing of mine is conveniently located between Elgin, Texas and Manor Texas in the Estates at Wilbarger Creek neighborhood on 2.113 acres of land. There are many nice shade trees on the property. The entry area has the most pasture or playground area. The property is completely fenced with a gate accross the drive in front. The home has no wall to wall carpet, so it is great for the benefit of carpetless Indoor Air Quality. There is laminate or "Pergo type" flooring, vinyl and ceramic tile. In the back, behind the home there are beautiful tall Elm trees. Call Betty Saenz Elgin REALTOR at 512-785-5050 or e-mail Betty Saenz to see Elgin Texas homes and land.