Dripping Springs Texas
Dripping Springs Texas – Hays County 78620
Dripping Springs Texas is south and west of Austin, Texas in the beautiful Texas Hill Country. Locals and Austinites just call it simply Drippin'. The population of Dripping Springs is around 1,500. However, including the Dripping Springs ETJ there may be 20,000 people. There is a Dripping Springs Farmer's Market at Highway 290 and Ranch Road 12 every Saturday from 9am to 12 pm through the end of November. There is also the Onion Creek Farm on Creek Road along the beautiful Onion Creek. Many homes in Dripping Springs TX have rainwater collection. There are also many rainwater collection installers and equipment dealers in Dripping Springs TX.
Dripping Springs TX Restaurants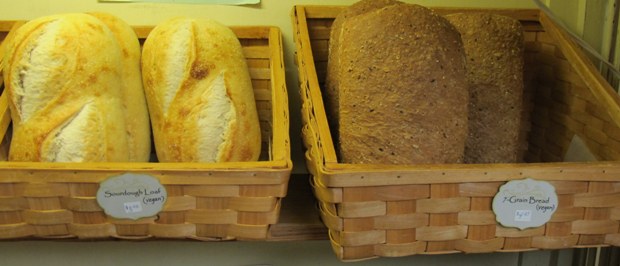 Rolling in Thyme and Dough at 333 W Highway 290 is a fun, eclectic eatery combined with a plant nursery. Thyme and Dough is my favorite Drippin' restaurant because you can eat healthy there with many vegetables and whole grains as well as Gluten Free and Vegan on the menu. Pictured above are some of the breads they bake, vegan 7 Grain and vegan Sourdough. There are herbal and regular teas; homemade breads; salads, soups, sandwiches and more. The Sunrise Cafe at 330 Mercer Street 512-858-0426 is a small cafe with Mexican and American food which has many different types of hot sauces. I love the Creek Road Cafe at 301 Highway 290 W in Dripping Springs 512-858-9459. Of course there are some fast food franchises like Dairy Queen and McDonald's but those are pretty much the same in any Texas town.
Dripping Springs Home Search
Dripping Springs TX Horse Properties
There are many neighborhoods and homes where horses are allowed in Dripping Springs TX. Chama Trace is one gated Dripping Springs horse property neighborhood where there are lots available and new homes are being built. There are feed stores, tack shops and veterinareans in Dripping Springs TX.
Dripping Springs TX Schools
Children in Dripping Springs TX attend the Dripping Springs Independent School District or one of the many private schools in the area. Nearby Austin TX, San Marcos, TX and Georgetown, TX all have colleges and universities for higher education. Dripping Springs TX is close to Austin Texas college town.
Dripping Springs TX Recreation
Reimer's Ranch Park – 2316 Hamilton Pool Road, Dripping Springs, TX 78620 (512) 854-7655. Reimer's Ranch is a park with almost 3 miles on the Perdernales River offers world class rock climbing as well as over 18 miles of trails for hiking, there are river activities as well.
Dr. Pound Pioneer Homestead, Ranch Road 12, Founder's Park, Dripping Springs, TX (512) 858-2030 Dr. Pound and his wife Sarah were among the first families in what is now Dripping Springs, Texas. This is the cabin they built in 1853-1854. I love to visit and donate to preserve this piece of Texas history.
Call Dripping Springs REALTOR Betty Saenz at 512-785-5050 or e-mail Betty Saenz to see Ranches and Horse Properties in the Dripping Springs TX area.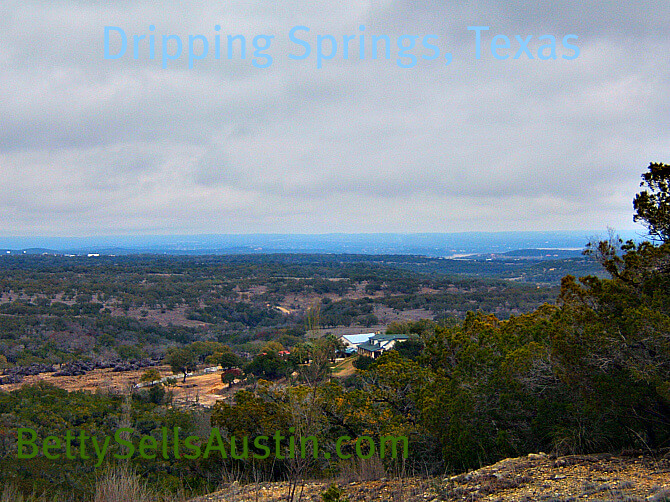 Photo of a Dripping Springs Texas Hill Country view taken February 2012 by Betty Saenz