Whitewater Springs, Bertam, Texas 78605 Homes For Sale
The Whitewater Springs subdivision in rural Bertram, Texas, near Liberty Hill, Leander and Lago Vista in the beautiful Texas Hill Country.
Whitewater Springs is located right smack dab in the middle of the beautiful 80,000 acre nature preserve of the Balcones Canyonlands National Wildlife Refuge. There are underground utilities so the scenic Texas Hill Country Views are not marred by unsightly electric power lines. Whitewater Springs is an Equestrian Community where horses are welcome. One horse is allowed per 5 contiguous acres in Whitewater Springs. There are nature trails as well as trails around the 16 acre stocked lake, ponds and creeks including Cow Creek. Most homes were built from 1998 to 2008, all are custom built homes. The majority of people there do not have horses. There are a lot of nature lovers in the Whitewater Springs community and the beautiful Balcones Canyonlands National Preserve, a wildlife refuge is adjoining the neighborhood.

Whitewater Springs Amenities
Whitewater Springs Amenities include a community park, covered pavillion, community swimming pool, two fishing ponds and endless views of the beautiful Texas Hill Country, Balcones Canyonlands National Preserve and Texas wildlife. I'll try and get some photos. There is a bath house, picnic tables. The fishing ponds are large. Whitewater Springs is only about 30 minutes from Commuter Rail and bus service into Austin, Texas. Whitewater Springs is also very close to the newly purchased 1,010 acre Williams Tract which has horseback riding trails.
Whitewater Springs Street Names
Whitewater Springs Street Names include Ash Juniper Way, Balcones Ridgeway, Chaney's Crossing, Chaneys Xing, Spring Hollow Drive, Oak Crest Drive, Murphy Drive, Whitewater Drive, Northcreek Court and others.
Whitewater Springs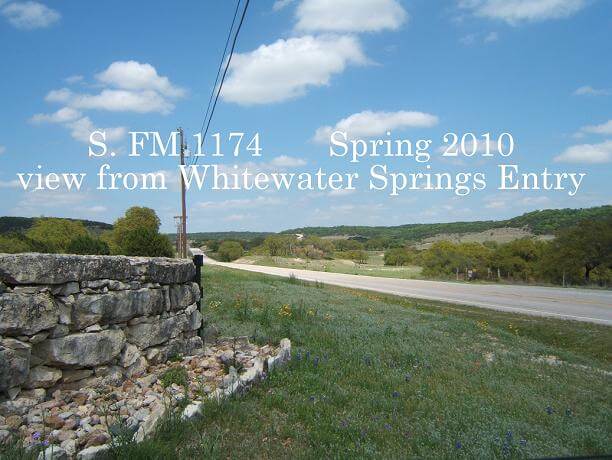 Whitewater Springs is located in MLS area BU off of S FM 1174 north of FM 1431 and south of RR 1869 off of highway 29 in Liberty Hill. The drive out there is very beautiful with expansive views of the Texas Hill country. Look at the map below to see how this neighborhood is in the middle of the nature refuge.
Whitewater Springs Utilities
Whitewater Springs own our own private non profit water corporation which is separate from the HOA.
The Preserve at Balcones Canyonlands – Whitewater Springs – REALTOR
Contact Whitewater Springs REALTOR Betty Saenz at (512) 785-5050 or contact Betty Saenz by e-mail to see homes for sale in Whitewater Springs or to sell your home or lot in Whitewater Springs.