Fifty Fun Destinations for Your Dog in Austin
Austin has a dog-friendly vibe. From north to south and from east to west you will find fun destinations your canine companions and you will love. Here are my top 50.
Auditorium Shores
(Google Map of Auditorium Shores Dog Park) (Yelp Reviews of Auditorium Shores Dog Park Website)
Does your dog love to splash and swim? Does your dog love the company of other dogs? Then head for Auditorium Shores! There are always lots of dogs at Auditorium Shores, and there are lots of dog owners who almost always clean up after them.
This 4.5-acre (1.8-ha) leash-free zone features:
An interior walking trail
Drinking fountain for dogs
Doggie shower for dogs to rinse off after their swim
Large, open green spaces
Rain gardens to treat waste and run-off prior to entering the lake
Three different water access areas designed with safety in mind (no danger of your dog running into traffic to get to the water)
Remember, the off-leash part of the park is the western end of Auditorium Shores, away from the Congress Avenue Bridge, between South First and South Lamar.
The Austin Beer Garden Brewing Company  (ABGBP)
While many local brewers are dog-friendly, The ABGB is one of the dog-friendliest. As advocates for shelter dogs, they often host adoption events and fundraisers in the ample patio. They're located at: 1305 W Oltorf St, Austin, TX 78704. (512) 298-2242   http://theabgb.com/
Banger's Sausage House & Beer Garden
Banger's is a great spot for dog, beer, and music lovers to gather. They even have a fenced-in dog run, plenty of water bowls, and even a special menu for your furry friend. They're located at: 79 Rainey St, Austin, TX 78701.  (512) 386-1656  https://www.bangersaustin.com/
Butler Hike and Bike Trail
(Google Places Map for Butler Hike and Bike Trail) (Trail Foundation Page on Butler Trail)
It's very simple to find the Butler Hike and Bike Trail. Just point your car in the direction of the Colorado River and exit when you see the trail. This 10-mile (16-km) hike and bike path is one of the best ways to get a feel for Austin without the traffic. Dogs are welcome, but have to kept on-leash. The downtown parts of the trail can get crowded, especially on weekends, but west of the Lamar Street Bridge you will often find that you have the trail to yourself!
Cane Rosso
(Map to Cane Rosso's Austin location) (Cane Rosso website)
Cane Rosso serves Neapolitan-style pizzas baked in wood-fired ovens for 90 seconds at 900 degrees F. This is the kind of pizza meant to be eaten with a knife and fork. And owner Jay Jerrier also runs Cane Rosso Rescue, which saves abandoned dogs in Austin and Dallas. Dogs are welcome on the patio, and the owner schedules dog-related events from time to time.
Contigo
Contigo serves super fresh Texas ranch-style food and has one of the best dog-friendly patios in Austin. Come for a laid-back spot where they can enjoy happy hour with cocktails, wine, and beer. 2027 Anchor Ln, Austin, TX 78723 (512) 614-2260  http://contigotexas.com/restaurant/
Crown and Anchor Pub
Crown and Anchor Pub is a popular watering hole with the college crowd. There's a big beer selection, daily happy hour, pub fare & a dog-friendly patio. They're located at: 2911 San Jacinto Blvd, Austin, TX 78705. (512) 322-9168 http://crownandanchorpub.com/
Capitol
(Google Map to Texas Capitol) (Texas Capitol Visitors Center website)
Finished in 1888, the Texas State Capitol was designed to resemble (and to be just a little taller than) the US Capitol in Washington, D.C. The Capitol grounds are a great place to catch a lunch with your dog on a sunny day. Dogs must be kept on-leash.
South Congress
(Google Map to South Congress Avenue) (Things to Do in Austin's South Congress Page)
There's no place Austin is weirder than South Congress. Boutique shops and unique restaurants line streets, and most establishments are dog-friendly. Dogs need to be kept on-leash but are generally every bit as welcome at The Domain as they are at Petsmart!
Dog House Drinkery
(Google map to Doghouse Drinkery) (Doghouse Drinkery website)
Actually a few miles north of Austin off 183, Dog House Drinkery offers feeding stations for dogs ($5 entry fee) plus burgers and patty melts for humans. The owners note that:
"Our main park area is a 1/2 acre fenced in off leash dog area with plenty of shade, lights, crushed granite & access to the bar without having to leave the park area. DogHouse has a separate 10,000 square ft off leash area in the front of our property that is used for adoptions, training, yappy hours, birthday parties & other general use. We also have a separate area for small dogs (less than 30 pounds) that is connected to the main park area.
DogHouse also has multiple areas for dogs & their owners to hang out without using the off-leash park areas. Dogs are always welcome in the bar area(s).
The off leash dog park area is the only area that is membership only but day passes can be purchased for $5.00 per dog. Yearly membership is $75.00 a year. If you have more than one dog the cost of the yearly membership is an additional $5.00 per dog."
The Domain
(Google Map of The Domain) (BringFido's Review of The Domain)
The Domain in North Austin offers a dog-friendly environment with great restaurants and upscale shopping. There are water bowls scattered through the property, and most shops welcome canine companions–just ask first. Most restaurants in The Domain allow dogs on the patio.
Greenhouse Craft Food
Greenhouse Craft Food in Round Rock is a cozy diner offering farm fresh seasonal food and local craft beer. Greenhouse has a small patio that welcomes well-behaved canine companions. They're located at: 1400 E Old Settlers Blvd #110, Round Rock, TX 78664. (512) 366-5567 http://greenhousecraftfood.com/
Hops and Grain Brewing
Hops and Grain Brewing is a sustainable microbrewery that actually makes tasty dog biscuits from the ingredients leftover from the beer brewing process. They offer tours, a taproom with handcrafted ales, and grain-based dog biscuits. They're located at: 507 Calles St #101, Austin, TX 78702  (512) 914-2467 http://www.hopsandgrain.com/
Garey Park Dog Ranch
(Google Map of Garey Park Dog Ranch)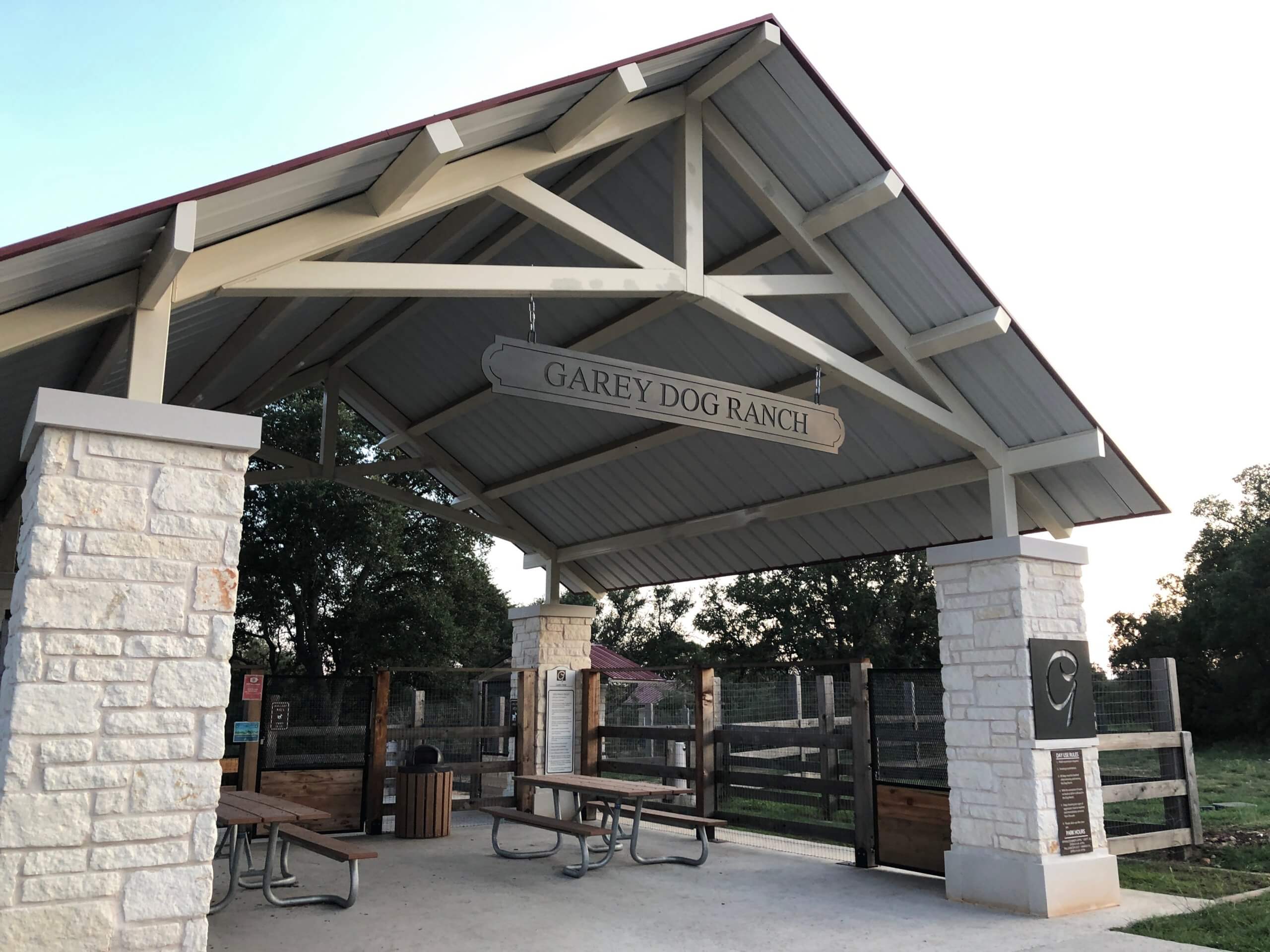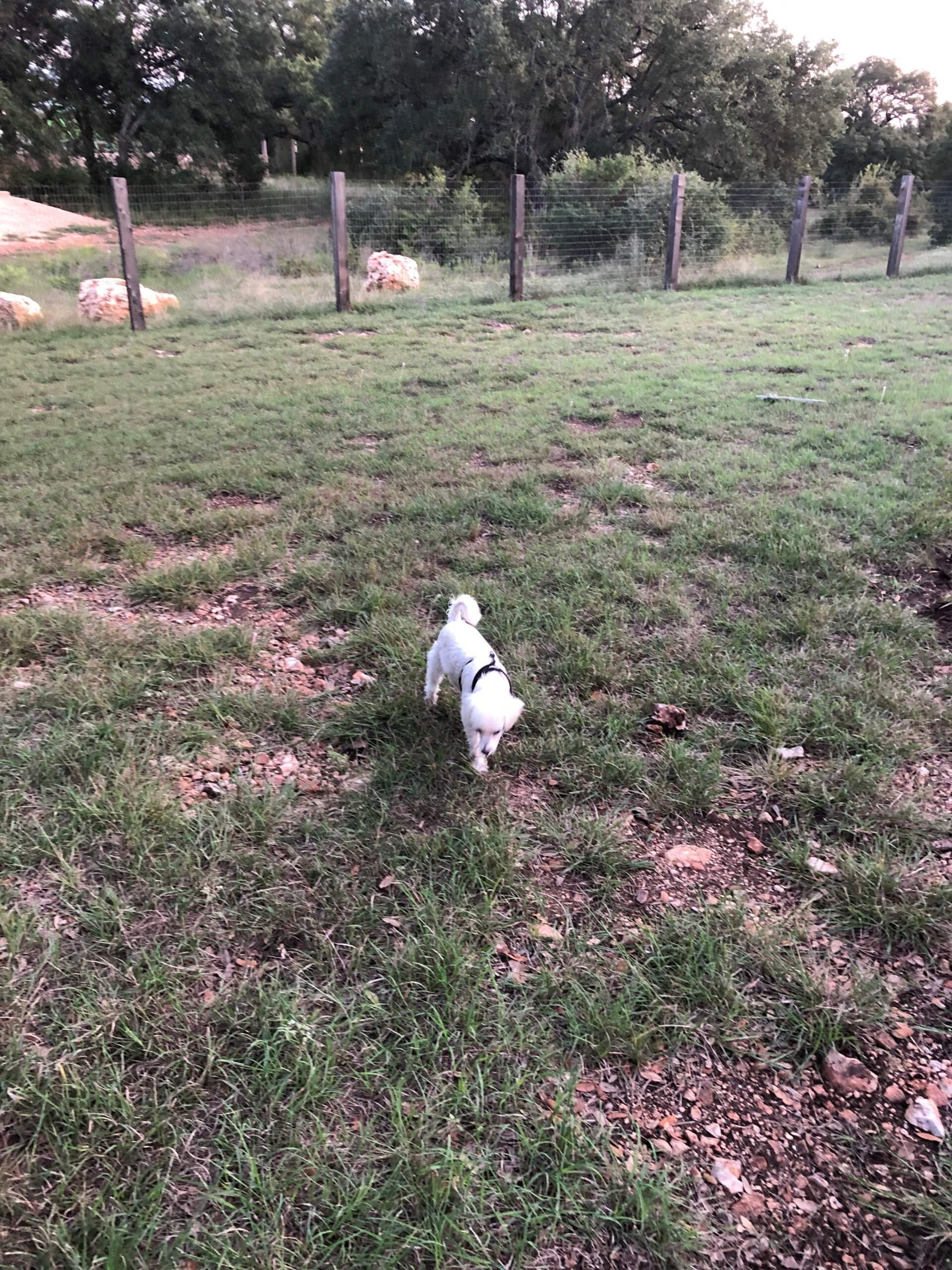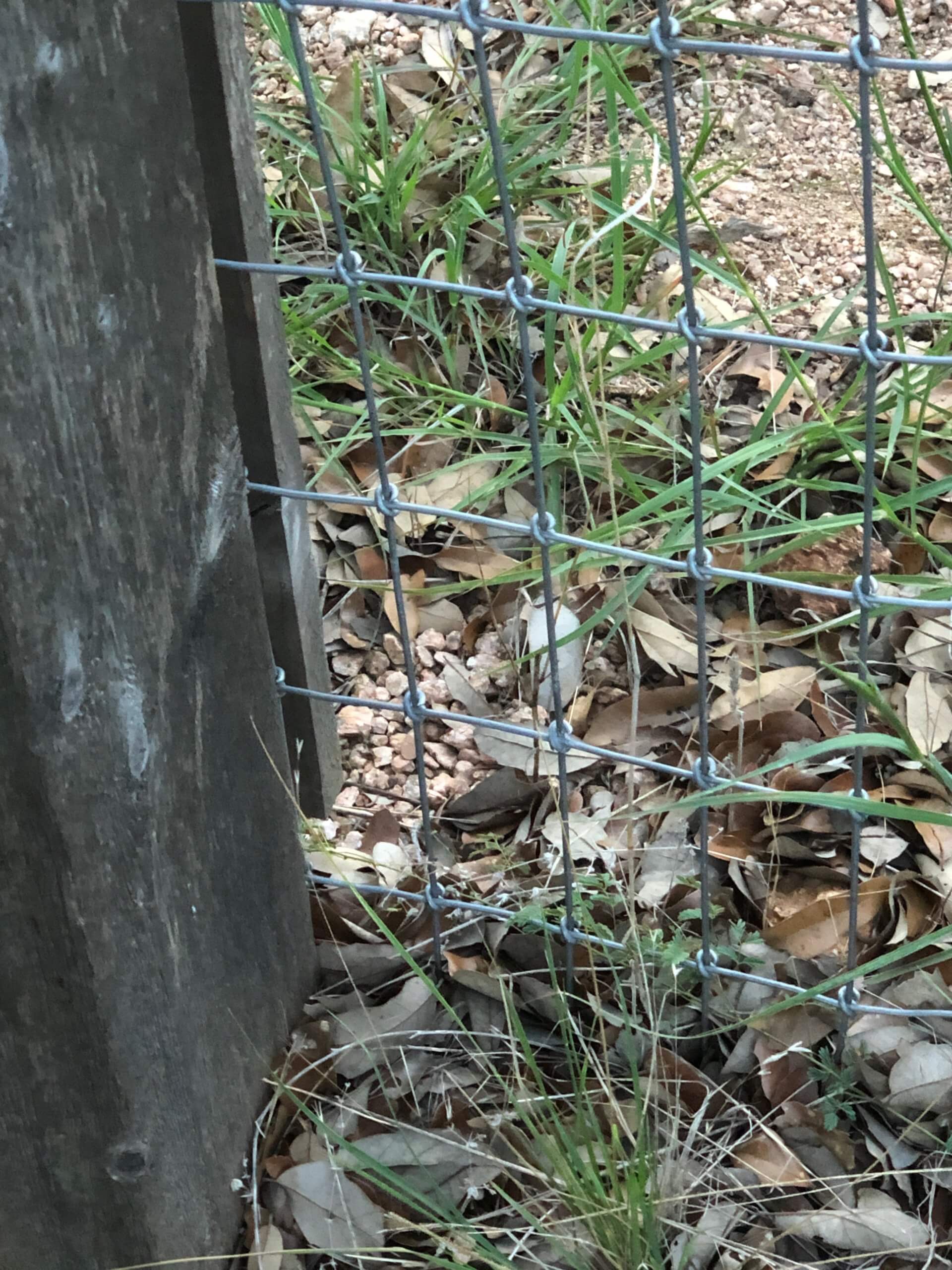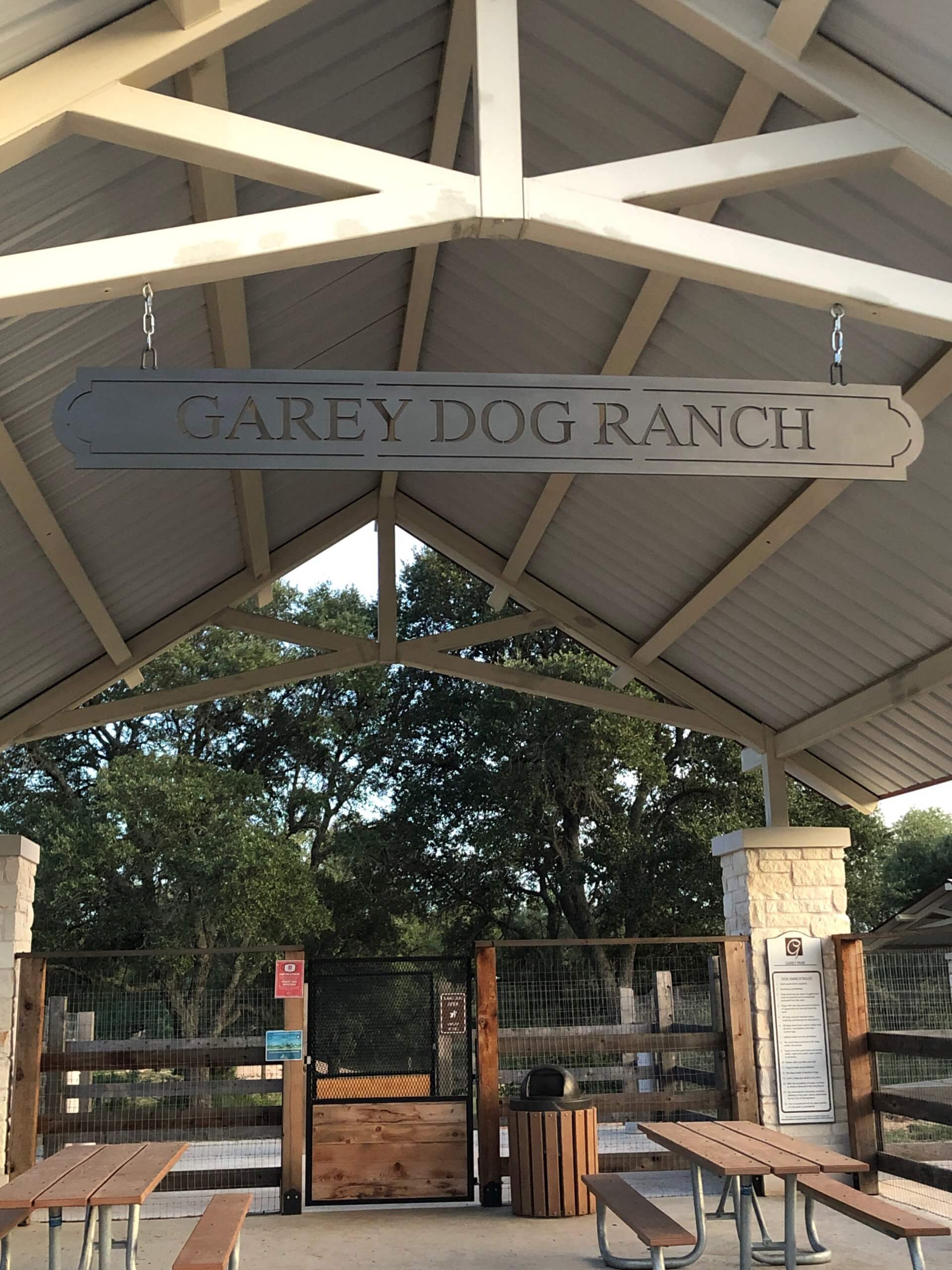 Kai Sushi
Kai Sushi serves Japanese cuisine and offers sushi-making classes. Dogs are allowed on their outdoor patio. They're located at: 1805 US-183, Leander, TX 78641. (512) 456-0147
Leander Beer Market
Leander Beer Market allows dogs on their outdoor patio. Located in Downtown Leander across from City Hall (Pat Bryson Hall). (512) 271-7096  Website.
The Little Darlin'
The Little Darlin' provides southern style cooking with a friendly atmosphere and a huge dog-friendly, grass-covered patio. They're located at:  6507 Circle S Rd, Austin, TX 78745. (512) 814-0999  
McKinney Falls
(Google Map to McKinney Falls State Park) (McKinney Falls Park Website)
Close to the airport, in the city limits, and just nine miles from downtown, McKinney Falls State Park is a 700-acre (283-hectare) nature preserve with two 2.8-mile (4.5-km) trails on which leashed dogs are welcome. There are lots of places for swimming, mountain biking, and picnics–but beware of poison ivy!
Metropolitan Park at Walnut Creek (Google Map to Metropolitan Park) (Metropolitan Park website)
Metropolitan Park offers a one-acre (half-hectare) fenced no-leash park with separate areas for large small dogs, restrooms for humans, and nearby parking. Leashed dogs are welcome in the rest of the 293-acre (85-hectare) park and its 15 miles (24 km) of hiking trails..
Moontower Saloon (Google Map to Moontower Saloon) (Moontower Saloon website)
In far south Austin on Manchaca ("Man-shack") Road, Moontower Saloon has an expansive patio with lots of room for dogs to explore. There's often live music after 6 p.m.
Moontower Saloon
A relaxed dog-friendly hangout with a large oak-shaded patio hosting live music, volleyball, and food trailers. They're located at: 10212 Manchaca Rd, Austin, TX 78748.  (512) 712-5661  http://www.moontowersaloon.com/
Norwood Dog Park
(Google Map to Norwood Dog Park) (BringFido.com review of Norwood park)
Want to take a puppy on her first outing? Drive to Norwood Dog Park, a completely fenced-in area taht has a separate space for small dogs. There's plenty of water, plenty of room to fetch, and comfortable chairs in the shade for owners to keep eye on their dogs. Norwood Dog Park is located just west of the Interstate and south of the River on East Riverside Drive.
Opal Divine's
Opal Divine's was one of the first Austin restaurants to allow dogs on the patio. Their menu includes delicious locally sourced pub food, and they even have dog treats on the menu. They are located at: 12709 N Mopac Expy, Austin, TX 78727.  (512) 733-5353  http://www.opaldivines.com/
Rainey Street
(Google Map to the Rainey Street Historical District)
Many restaurants and bars on Rainey Street don't just allow dogs, they encourage them! Banger's Sausage House and Beer Garden even boasts its own fenced-in dog park (currently under renovation) and a menu item especially for dogs.
Ranch 616
Ranch 616 serves delicious South Texas-style food. While you drink the great margaritas, your dog will get a fresh bowl of cool water. They're located at: 616 Nueces St, Austin, TX 78701.  (512) 479-7616  http://theranch616.com/
Red Bud Isle
(Google Map to Red Bud Isle Park) (Red Bud Isle website)
A 14-acre (3.5-hectare) island in the Colorado River easily accessible from
Westlake and West Austin, Red Bud Isle is often mentioned as the best dog swim park in the United States for dogs and humans alike. Surrounded on three sides by water, the park is a great place for your pooch to socialize and wear off excess energy, and the entire park is off-leash. Just bring a change of clothes in case you get muddy.
Sala & Betty
Sala & Betty offers a casual New American menu of farm-sourced, healthy food served in hip indoor/outdoor setting. Dogs are welcomed with a bowl of water and a treat. They are located at: 5201 Airport Blvd, Austin, TX 78751. (512) 645-0214  http://www.salaandbettyatx.com/home
Shake Shack
(Map to North Austin Shake Shack) (Map to South Austin Shake Shack) (Shake Shack website)
Operating in both South and North Austin, Shake Shack is a chain offering New York-style burgers, hot dogs, frozen custard, shakes, beer, wine and more. Both locations feature all the favorites plus offerings from Kreuz Market (BBQ in Lockhart), Uchi (Japanese), and Kiskadee (fine chocolates), and donate the profits from certain menu items to the Austin Humane Society. The North Austin location at The Domain features a bocce ball court and "parking" for your dog.
Shoal Creek Greenbelt
(Google Map to Shoal Creek Dog Park) (Shoal Creek Greenbelt website)
Stretching 9.2 miles (14.8 km) along Shoal Creek in northwest Austin, the Shoal Creek Greenbelt is a well-shaded ribbon of parkland with long mountain biking trails and a large leash-free dog park at 2900 North Lamar, where there is a small parking lot. No leash is needed, and it's a great place to for your dog to meet other canine regualars and for you to meet other Austin dog owners, but you need to be sure your dog can steer clear of cyclists.
Yard Bar
(Google Map to Yard Bar) (Yard Bar Website)
Yard Bar offers a shaded off-leash dog park with adult and cold beverages for those over the age of 21 and their dogs. (Children are welcome on the dining patio.) There are happy hours from 3 p.m. to 6 p.m. most weekdays, and occasional live music and taping sessions on the weekend. The leash-free area of the establishment is patrolled by Bark Rangers.
Spider House Cafe
The Spider House is the famously eclectic performance space featuring diverse events (live music, DJs & comedy), a full bar & patio. Dogs are always welcome in the patio. They're located at: 2908 Fruth St, Austin, TX 78705. (512) 480-9562  https://spiderhouse.com/
Starbucks
Starbucks allows dogs on their patio and even offers a free refreshment called the "puppy whip". They're located at:  1805 S US Hwy 183, 100, Leander, TX 78641. – and many other locations!  (512) 259-5941  starbucks.com 
Vinaigrette
Vinaigrette let's you design your own salads, plus soup & sandwiches served in a modern, colorful space with a nice selection at the wine bar. They have a beautiful patio where dogs will get their own treat and a water bowl. They're located at: 2201 College Ave, Austin, TX 78704. (512) 852-8791  http://www.vinaigretteonline.com/
Yard Bar
Yard Bar is basically a snack stand in a dog park with picnic tables, but they offer delicious sandwiches, cocktails, beer, and wine. They have a dog menu that includes local Bones & Co. sliders and homemade ice cream. They're located at: 6700 Burnet Rd, Austin, TX 78757.  (512) 900-3773 http://yardbar.com/
Zilker Park
(Google Map for Zilker Park) (Zilker Park website)
Zilker Park is a 350-acre (141-ha) reserve smack dab in the middle of Austin, just south of the Colorado River. On weekends it is alive with soccer games, pick-up football games, children riding the miniature train system, and people out flying kites. And every day, Zilker Park is a great place for dogs.
The park is divided by Barton Springs Road. The park north of Barton Springs Road (nearer the river) is off-leash. The park south of Barton Springs Road is on-leash, except just south of the pool, where dogs are welcome to take a splash in the refreshing Barton Springs water.
Zilker Botanical Gardens
(Google Map to Zilker Botanical Gardens) (Zilker Botanical Gardens website)
Just north of Zilker Park you will find Zilker Botanical Gardens, a "jewel in the heart of Austin." Dogs as well as humans are welcome in the 26 acres (10.5 ha) of themed gardens. Some of the trails are a little narrow, but there are waste receptacles everywhere and plenty of shaded areas for rest breaks.
While dogs are welcome every day the park is open, there are some days it might be a little crowded for your canine–and hard to find parking. Zilker Botanical Gardens tends to be a lot less crowded on weekdays than on flower show Saturdays.