Manor TX Homes For Sale
Manor Texas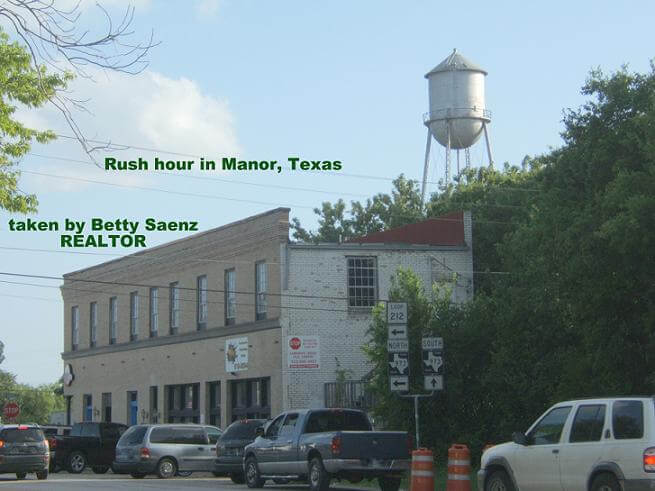 Manor Texas is an "undiscovered" small city just east of Austin, Texas in Travis County. I say "undiscovered" because it is so close to downtown Austin, Texas yet property prices there are so much lower than downtown or central Austin. In 10 minutes you can be in Austin from Manor. The current population of Manor is only about 10,000. Major employers around Manor are Dell, Samsung, and Applied Materials. Get to Manor by heading east on Highway 290 (same as 2222 or Koenig in Austin) from Austin. Call Betty Saenz Manor REALTOR at 512-785-5050 or e-mail Betty Saenz to buy or sell homes, horse properties, land or farms in Manor Texas. Manor TX is USDA Home Loan approved for 102% financing. The new Manor TX Wal Mart is OPEN now. The NEW Austin Community College Campus in Elgin, TX on 290 is just a few minutes away. Highway 290 was improved by adding a 290 Toll Manor Expressway. The new 130 Toll Road allows easy access north to Pflugerville, Round Rock and Georgetown Texas and south to the Austin Airport, Bastrop and Lockhart.
Manor, TX Neighborhoods
Manor TX Shadow Glen
ShadowGlen, a master planned community with a 4,300 square foot ammenity center; 4 acre water park, junior Olympic pool, slide pool & splash pool. There is a neighboring 18 hole public golf course Shadow Glen Golf Club designed by the Austin, Texas golf course design team of Roy Bechtol and Randy Russell. My ShadowGlen web page has more on beautiful ShadowGlen in Manor Texas.
Bell Farms in Manor Texas
Bell Farms is a great neighborhood in Manor Texas with NEW HOMES being built now. Pacesetter Homes is building NEW HOMES in Bell Farms. Call Betty Saenz Manor TX REALTOR at 512-785-5050 or contact Betty Saenz by e-mail to see new homes in Manor Texas.
Presidential Meadows is past Shadow Glen and is nice because the elementary school is in the neighborhood adjacent to Greenbury Village. Past Presidential Meadows is Presidential Glen, is a mixed use development. Eaglewood Homes is building in Presidential Glen.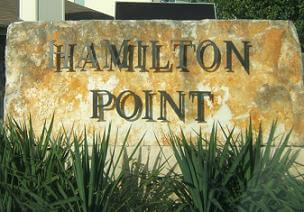 Hamilton Point is a small neighborhood of recently built one and two story homes just east of downtown Manor TX. There is an HOA.
Briarcreek is just a little further down Blake Manor Road. Stonewater is a new neighborhood behind Greenbury Village off of FM 973. Main Street Homes is building New Homes in Stonewater. Bell Farms off of Loop 212 (aka FM 973) is another new subdivision not built out yet. Wild Horse neighborhood in south Manor, past Blake Manor Rd. on right, has homes still under construction as well. Eaglewood Homes is a builder in Wild Horse building from the $120's.
Manor Texas Farmer's Market
Manor Texas has a great Farmer's Market that meets Wednesday from 4:00pm to 7:00pm in Jenny Lane Park, 104 E. Rector, Manor, TX 78653 – a free Wi-Fi and Fitness Zone. There are all kinds of fresh and preserved fruits and vegetables, fresh eggs, meat and homemade tamales. You can order your homemade tamales in advance by calling (512) 517-1441.
Manor has its own fast growing school district- Manor ISD  Manor, TX has an active Chamber of Commerce.
Manor TX Restaurants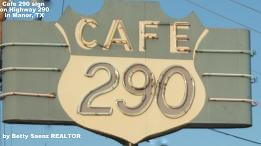 Cafe 290 at 11011 Highway 290 East (512) 278-8780 is an Austin area institution. People drive from all over to eat there. Down home cooking, the best chicken-fried steak, wonderful breakfast, homemade pies and deserts can all be had under 1 roof. Ramos on the main street are among the several Tex-Mex options. There are 2 pizza places, a Bar B Q place, a Sonic and a Super Donuts with breakfast croissants. The Good Luck Grill is located out in the country near Shadow Glen and Stonewater at 14605 FM 973 N, Manor 78653. The Good Luck Grill has vegetarian options like Portobello mushroom burgers, fried green tomatoes and fried pickles. It is neat because it is on a big lot and has downhome kids entertainment stuff like a backyard for the kids to play. There is a washer pit and play equipment for kids- old tricycles and other playground equipment.  It is relaxing for adults to eat while kids play all while enjoying a sunset overlooking Manor. Cele Store at 18726 Cameron Road, Manor, TX 78653 offers BBQ in an old time Texas setting that has been used for numerous photo and movie shoots and is a Texas top 10 film location.
The 273 acre Travis County East Metropolitan Park on Blake-Manor Road just outside Manor is a great place for an event, swimming, fishing, playing ball, a walk or relaxing in the park!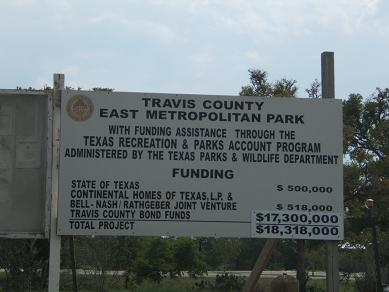 Manor TX Movies
Manor Texas movies that were filmed in Manor include Whatever Happened to Gilbert Grape, Second Hand Lions with Robert Duval, A Perfect World with Kevin Costner. When you watch the movie Whatever Happened to Gilbert Grape with Johnny Depp and Leonardo DiCaprio you will see the old classic Manor water tower as pictured above.
Manor TX Recreation
Manor Downs at one time had live Quarterhorse and Thoroughbred horse racing but stopped years back. The 273 acre East Metropolitan Park is a great place to relax with hiking trails, catch and release fishing, a swimming pool, playscapes, baseball fields, covered basketball, covered and lit tennis courts, disc golf and shuffle board. There is also a magnificent and picturesque rentable pavillion with sliding glass door walls, bathrooms and concession area. Situated right by the main pond is a pier and large deck.
Equibloom is a therapeutic horseback riding facility located on Blake-Manor Rd. My horse's picture is number 6 and 7 on the website. Shamar lived out the last years of his life there. The Manor Lions Club is very active and puts on fish frys and parades among other events.  Manor recently started a Kiwanis Club in September 2008.
Manor has a great Farmer's Market (Printable Market Dollar on website) every Wednesday from 4-7 at Jennie Lane SmartPark between Lexington and Rector streets. There is also a Farmer's Market on Saturdays at the New Tech High School right on Highway 290 from 3:00 to 7:00pm. Of similar interest is Crow's Nest Farm Animal Life Center, a non-profit to foster appreciation for the wildlife & agricultural resources of Texas.
History of Manor:
In the 1800's the Manor area was known as "Parson's Seminary" then came to be named Manor after Judge Manors. After the civil war made slavery illegal, many Swedes came to work the plantations at Mrs. Parson's. After working off their passage fee to come to America, as well as he cost of farm implements like a plow and oxen the Swedes would buy their own place. That is how other small communities like New Sweden, Decker, Manda, Lund and Kimbro developed around Manor.
Information deemed reliable but not guaranteed, website visitor must verify
Betty Saenz is a Texas REALTOR®, licensed to practice Real Estate in the State of Texas.