221 Dawn Drive, Liberty Hill, TX 78642
SOLD

221 Dawn Drive in Ancient Oaks, Liberty Hill, Texas from the outside looks like beautiful Craftsman style home but is truly a Craftsman style custom home of superior construction and insulation. For education, one might read up on The American Lung Association's Health House. Health Houses use less energy and are healthier places to live than the average production home because of superior Indoor Air Quality or IAQ. A well designed and engineered Heating Ventilation and Cooling (HVAC) system; foam insulation; super tight energy efficient windows, stained and scored concrete floors are among the elements in this home that help to have superior IAQ and Energy Efficiency.
221 Dawn Drive – Benefits of Foam Insulation
While air leaks in a home's envelope may cost other homeowners thousands of dollars annually, this home will save you lots of money as well as provide better air quality. A draft free, tightly sealed home reduces allergens, airborne dust and fibers as well as noise. Another huge benefit is that the attic space becomes "conditioned" space. Go up in the attic of an average Central Texas home in the Summertime and find a sauna. In this home, on the hottest summer day, the attic is comfortable, not a sauna. Your ductwork is pushing cold air through the ducts in a cooler space in the summer or a warmer space in the winter. Your attic's stored items are dust free and do not melt in summer or freeze in winter. This custom home has a pull down stairway in the 3 car garage with lots of floored attic storage space.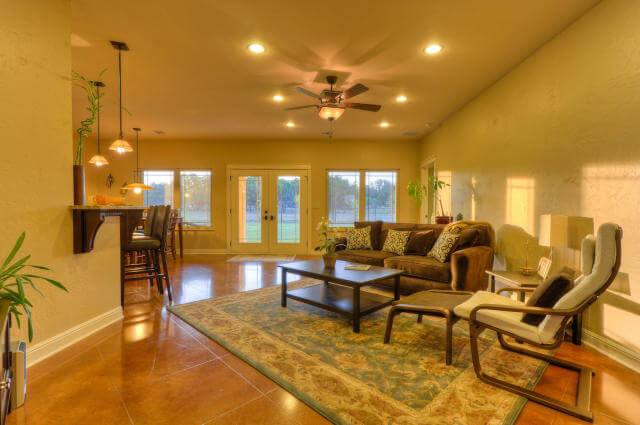 This 2009 built home has an Open Floor Plan with 3 bedrooms, 2 and a 1/2 baths, a 3 car garage and 2,198 square feet per owner. Located on 1.004 acre in the restricted community of Ancient Oaks, this home has foam insulation as well as blown cellulose. These superior energy efficient, greenbuilding construction methods enable the home to have low utility bills. Low utility bills, combined with low taxes and low maintenance mean less time and money spent so you can use that time and money on other things you enjoy.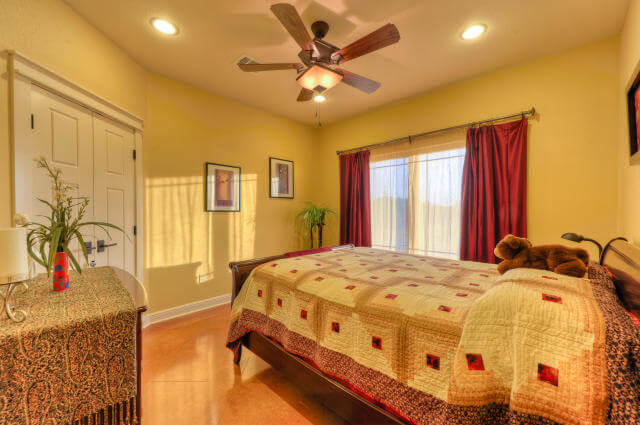 Guest Bedroom of 221 Dawn Drive, Liberty Hill, Texas
221 Dawn Drive Liberty Hill Features
3 Bedrooms
Front Office
2.5 Baths
3 Car Garage
1.004 acre
Professionally Designed Low Water Use Landscape
Built in 2009
Craftsman Style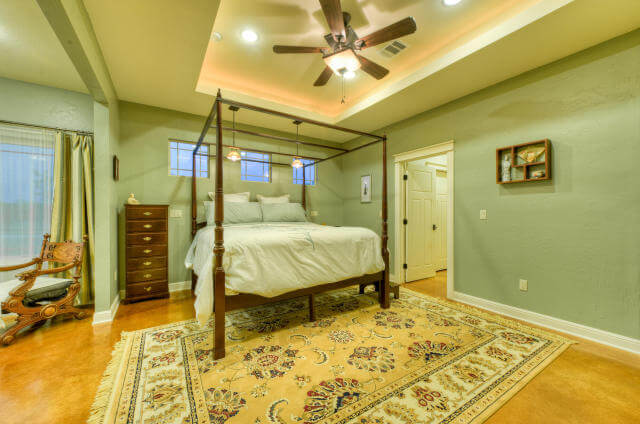 A luxurious Master Suite includes a bay window sitting area with a door to the covered back patio, a beautiful fireplace, two walk-in closets, a Master Bath with doored water closet, walk-in oversized shower with seat and 2 vanities with granite counters. Two propane gas tankless water heaters make instant hot water. The home's Energy Star appliances save energy while providing the latest technology.
221 Dawn Drive Liberty Hill – Custom Kitchen Features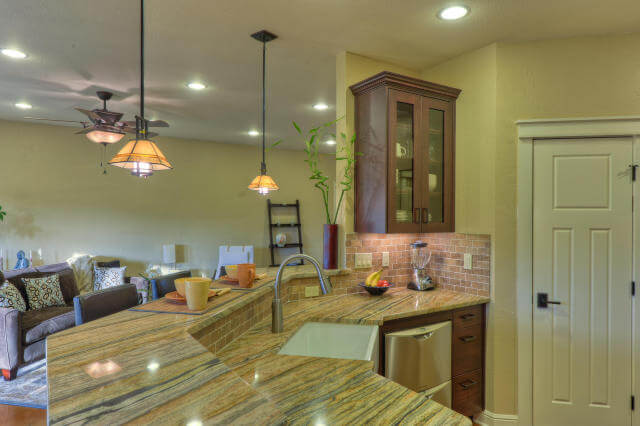 Hand picked Llano, Texas granite counters as well as numerous glass front custom cabinets provide beauty as well as plenty of storage. There are deep drawers that make it easy to store your large cooking utensils. All with custom Craftsman hardware and fixtures to carry the beautiful Craftsman style throughout the home. A double drawer stainless steel Fisher and Paykel dishwasher makes washing dishes a joy. A beautiful Farmer's sink creates a wonderful look as well as a large space for food preparation and dishes. There is a breakfast bar, adjoing dining area and a walk-in pantry.
221 Dawn Drive Liberty Hill – Xeriscape Landscape Design
221 Dawn Drive enjoys a fenced yard for your pet(s) with a low water use wide blade Zoysia lawn grass. In addition there is other land outside the fence in Native plants as well as a professionally designed, low water use landscape design. The professional design includes many beautiful rose varieties, a culinary garden with many types of herbs; a variety of shrubs and trees. Using native and adapted plants suitable for the Central Texas environment results in a more successful, lower water use landscape that requires less maintenance.
221 Dawn Drive Liberty Hill – Close to Public Transportation
The Capital Metro Bus and Rail into Austin, Texas is only about 10 minutes away (by car) at the Leander Station for state of the art Public Transportation. Ride air-conditioned, Wi-Fi equipped, handicapped accessible, comfortable busses and trains into Austin, Texas. There are 9 bus and rail stations and busses and trains have bicycle storage. Check CapMetro .org for more information on MetroRail rail service as well as busses. There are Trip Planners, Schedules and Maps, Fares and other Commute Options on-line or call Cap Metro at (512) 389-7400 or (512) 474-1200 for Specific Route Information. The Leander Station is located at 800 N. Highway 183, Leander, Texas 78641 There is a Park and Ride with 637 car parking spaces, 26 bicycle spaces. Capital Metro makes 4,000 stops at various Central Texas locations!
221 Dawn Drive, Liberty Hill, Williamson County, Texas has its own septic system, Chisolm Water, PEC Electric and high speed Internet service.
This Home was Offered at $329,900. but is Off The Market now. Contact Betty Saenz REALTOR for more information at (512) 785-5050 or contact Betty Saenz by e-mail