Hutto
window.dataLayer = window.dataLayer || [];
function gtag(){dataLayer.push(arguments);}
gtag('js', new Date());
gtag('config', 'UA-76450306-2');
Hutto Texas – Williamson County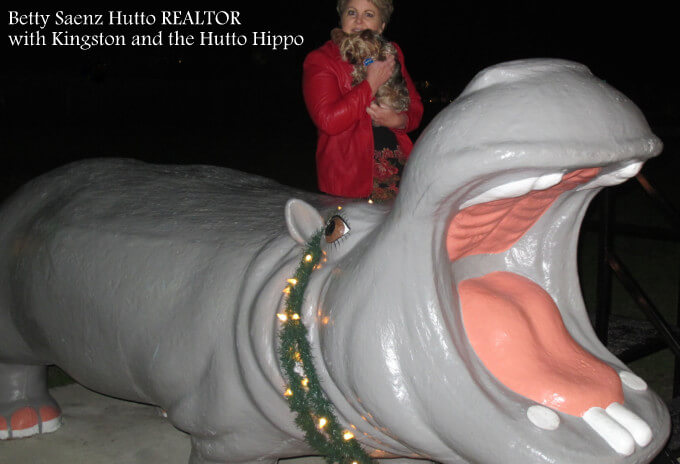 Hutto is a fast growing small town with a population of about 28,000 located east of IH 35 on Hwy 79 in Williamson County just north of Pflugerville, Texas and east of Round Rock, Texas but west of Taylor, Texas. The mascot for the Hutto sports teams is the hippo- the Hutto Hippos. So when in Hutto, look out for the hippos! Hippo statues that is!! The City of Hutto flower is the Orange Crush Daylily. The topography of Hutto is relatively flat. The soil is more of a blackland variety suitable for farming and growing many things at your home. Some homes in Hutto back up to the Brushy Creek.
Hutto TX Schools
Children in Hutto attend Hutto ISD public schools or one of the private schools in the area. The public school mascot in Hutto is the Hippo, you will see them everywhere. Hutto High School is located at 101 FM 685. Hutto ISD is located at 200 College Street (512) 759-3771.
Hutto Texas Farmer's Market
Hutto has a Summer Farmer's Market sponsored by Keep Hutto Beautiful that is held every Saturday in the months of May and June of 2009 until noon or whenever the goods are sold out. Vendors sell items like fresh fruit and vegetables, baked goods such as bread and other items. The Hutto Farmers Market is located at the 500 block of Hwy 79 in Hutto, TX 78634 at Hwy 79 & Short Street next to the Wag-A-Bag convenience store and the old Co-Op.  The contact is (512) 759-4000. It is FREE to go to the Farmer's Market.
Hutto Texas Restaurants
New businesses and developments are popping up all over Hutto as the Hutto population explodes. There is a new Rio Grande Tex Mex restaurant on the north side of Hwy 79 at 560 Highway 100 (512) 759-1449.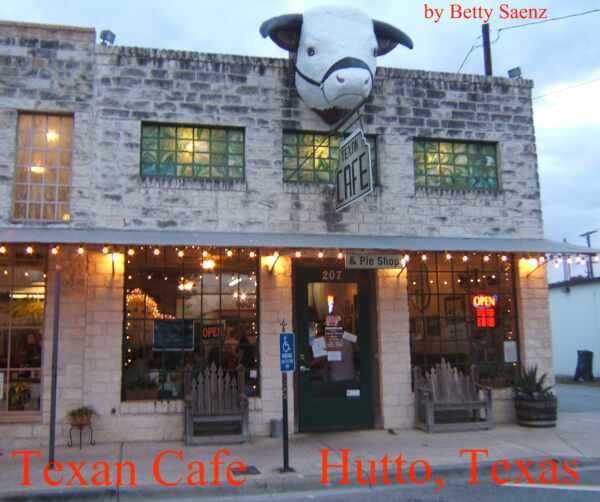 The Texan Cafe and Pie Shop is owned by Roger Joughin and Ron Yaudes since 2006. Located at 207 East Street in Old Downtown Hutto, The Texan Cafe has delectable dining with down home cooking as well as pies, cakes and cobblers. I love the rhubarb pie!! Fried green tomatoes are another favorite!! YUM! Call ahead for carry out at (512) 846-2885. Pie Happy Hour in from Tuesday to Saturday from 3:00 to 5:00pm.
Hutto Texas Horse Properties
Hutto Texas usually has several acreage home properties that allow horses at any given time. Some start around $200,000. and go up from there. Heritage on San Gabriel is a gated Equestrian Community in Hutto Texas.
Hutto Texas History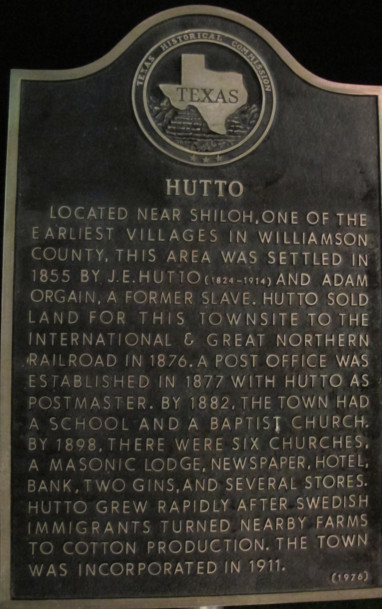 Hutto Texas REALTOR
Call Betty Saenz, Hutto REALTOR to see homes for sale or to sell your home in Hutto at (512) 785-5050 or e-mail Betty Saenz Hutto REALTOR. Betty Saenz is a Native Texan.