About Me
window.dataLayer = window.dataLayer || [];
function gtag(){dataLayer.push(arguments);}
gtag('js', new Date());
gtag('config', 'UA-76450306-2');
Betty Saenz REALTOR®, EcoBroker®, GRI, SRES® About Me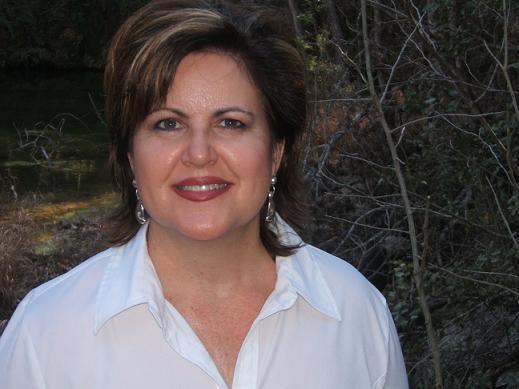 This photo was taken over 5 years ago or more at Wild Basin, a great Austin, TX place to go, learn, hike and otherwise just enjoy nature. Wild Basin is located off of 360 which is also called Capital of Texas Highway.
I am licensed to do business in the State of Texas as a REALTOR® and can help with your Residential, Farm & Ranch, and Real Estate needs. Whether you need a house, condo or duplex for yourself or family, a Ranch or acreage to enjoy to buy- call me today! I work all in and around the entire Austin metroplex area- Leander, Liberty Hill, Cedar Park, Round Rock, Pflugerville, Georgetown, Dripping Springs, Driftwood, Wimberley and Westlake. I love my state and have sold in other areas as well including the Coastal Bend (Corpus Christi, Rockport, Aransas Pass) Area and Brownwood in Brown County.
My Texas History
I am a 5th generation Native Texan on at least 3 sides and know this "country" of Texas well. My earliest Texas ancestors came to Texas in the 1830's. My family came to the Austin Area by 1871, so my roots in Austin Texas Real Estate run deep. My Grandfather, O.W. Sandstrom, son of a Swedish immigrant and farmer who put himself through law school at UT, he was a partner with David Gracy at the first and oldest title company in Central Texas, Gracy Title. Several of my family go back to the Republic of Texas and even before through Valentine Hoch, Caroline Dauer, Andreas Breustedt, Anton Pieper and Elizabeth Dedich. Anton Pieper helped found New Braunfels, TX. The Breustedt – Dauer home is now the Texas Museum of Handmade Furniture in New Braunfels, Texas. My forefather Valentin Hoch built a home in Hochheim, Texas in the 1850's which became the Stagecoach Inn- a stage stop on the Indianola, Texas to Austin, Texas stage route (or Indianola-Austin Trail). My great, great grandfather, Julius Raetzsch was Secretary of Hochheim Prairie Insuranse which still does business today. Hochheim Prairie has a non-profit organization, the Hochheim Historical Foundation to preserve the Stagecoach Inn that my forefather Valentin Hoch built. Since my history in Texas goes back to before Texas was a state I am preparing my documentation to be an official member of the Daughters of the Republic of Texas, or DRT, in the Martin Wells Chapter, of Round Rock, TX but for now, I am an Associate Member.
Up Close and PERSONAL With Betty Saenz
I was Commissioner Place 6 on the Planning and Zoning Commission in Leander, TX– a volunteer, unpaid service to the community that I performed from 2007 to 2015. I hope to see the City of Leander grow into a wonderfully planned community all can enjoy!  My son attended Vista Ridge High School in Leander ISD. My husband works at 3M Company (Minnesota Mining and Manufacturing). I am a member of the Austin Scandinavean Club, the Austin Pond Society the German – Texan Heritage Society and Gaitkeepers- a gated riding club. I was invited in 2013 to become a member of the Board of Directors for the New Braunfels Heritage Society. I accepted this position because I have so much history in New Braunfels and love it dearly. Coming from ranching and farming, I love Texas wildflowers, horses and other livestock. I have owned many horses, the latest of which served children his last years at Equibloom Therapeutic Riding in Manor. I owned him since he was 6 years old in 1978 and he went to greener pastures at age 36. I love to ride the trails at Parrie Haynes and other places. An avid organic gardener, My yard is a National Wildlife Federation Certified Wildlife Habitat™.  I garden sustainably minimizing my lawn grass, avoiding invasives and using Native Texas plants, xeriscaping and front yard edibles. I have been a Texas Organic Farmers and Gardeners TOFGA Member.
I am currently retrofitting my home in Leander to be more energy efficient, and eco-friendly. I have added Energy Star roof shingles and BioFoam insulation to my roof decking in my attic, making it a conditioned space. I added 16 SEER HVAC systems with 90% efficient furnaces. I hope to have a place in the country again where I can have a horse, chickens and raise more edibles again as well as be a steward of the land. In fact, the yard of her current home is registered as a National Wildlife Federation Certified Wildlife Habitat.® And, of course, it should come as no surprise that animals—especially horses—have always been a vital part of Betty's life.  Betty's yard is also a National Wildlife Federation Certified Wildlife Habitat. Her property was just featured on the Central Texas Garnder. Here is the link to watch the episode that aired in January 2020.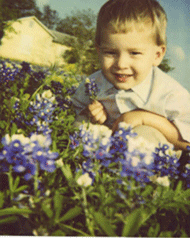 My son in Texas Bluebonnets 
Betty's Blogs and Twitter
TexasOrganicHome.com is my GREEN WordPress blog
I Twitter as AustinTxREALTOR
On ActiveRain I am AustinREALTORLady. Please like my Betty Saenz REALTOR Facebook page!
My Google BlogSpot blog is Austin Texas GREEN Real Estate Happenings
Licensed to practice Real Estate in the State of Texas.
Information deemed reliable but not guaranteed.  Buyer or agent must verify.