Pflugerville Homes For Sale
Pflugerville Texas Travis County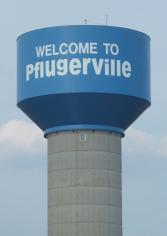 Pflugerville Texas is a rapidly growing small city located just northeast of Austin, Texas, about 12 minutes from downtown Austin. Touting itself as between a rock, meaning Round Rock, TX and a weird place, Austin TX, Pflugerville has its own public schools – the Pflugerville Independant School District. Pflugerville enjoys an active Rotary Club. The city of Pflugerville is located at the headwaters of the far reaching Gilleland Creek. A great hike and bike trail follows the creek from the Pfluger Park and Gilleland Creek Park areas. In 2005, Pflugerville created its own lake – Lake Pflugerville which is located off of Weiss Street at 1994-2174 Pflugerville Parkway, Pflugerville, TX 78660. Lake Pflugerville is a 180 acre reservoir for water as well as a recreational area. There are piers for swimming, fishing and a 3.1 mile flat hiking trail. The new 1-30 Toll Road is a great highway just east of Pflugerville and has a Pecan Street exit number 431 to take you right down the main street of Pflugerville. The new 1-30 Toll Road goes northward to Highway 195 north of Georgetown TX as well as south to the Austin Airport and then the Buda TX and Kyle TX area and all the way to Seguin Texas in Guadalupe County.
Pflugerville TX Entertainment and Restaurants
Graham Central Station located at 1719 Grand Avenue Parkway is a fun nightclub for adults. Doc's at 15821 Central Commerce Dr. is great for dinner and drinks with friends. Hanover's Draught Haus is a great live music venue and a favorite for watching the football games replete with volleyball courts and Karaoke. Deutschen Pfest is an annual 3 day fundraiser festival held at Pfluger Park, 700 Railroad Ave. with music, food, arts and crafts and other fun family activities. FREE parking and shuttle service is available every DeutschenPfest. The Nuernburg Brauhaus at 1202 FM 685 offers delicious German food (512) 990-5544. IHOP at 14310 N. IH 35 is great for those late night hunger pangs since they are open 24 hours 7 days a week. You will love taking your pet to the Stoney Creek Park Dog Park at 14400 Harris Ridge Boulevard in Pflugerville. There is a big dog and little dog area as well as trees and trails. There is also a Bark Park at 19417 Murchison Ridge Trail in Falcon Pointe.
Call Betty Saenz Pflugerville REALTOR at 512-785-5050 or e-mail Betty Saenz to see homes for sale in Pflugerville Texas and nearby New Sweden Texas. My family settled in New Sweden Texas Travis County in 1871 and were founding members of the beautiful and iconic New Sweden Church. When in Pflugerville, take a drive just a bit further east to see this picturesque and historic church.
Pflugerville TX Goes GREEN
Pflugerville created a Drop By Drop landscape rebate program.  This water conservation program is promoting lower maintainance yards and the attraction of butterflies and hummingbirds by using Native Texas and adapted plants and rain barrels. The Pflugerville Recreation Center has a demonstration plot. Call (512) 251-5082
The Green Red Barn is a renewable energy project at Heritage Park using solar panels & wind generators to produce energy for trail lights and the barn as well as the Old Hutto Road picnic shelter.
The Pflugerville Pflag is the local Pflugerville TX newspaper.
Information deemed reliable but not guaranteed, website visitor must verify
Betty Saenz is a Texas REALTOR®, licensed in the State of Texas.