New Braunfels Homes For Sale
New Braunfels Texas
New Braunfels TX History
New Braunfels Texas is a historic Texas town in Comal County very dear to my heart because of all my family history there. Anton Pieper, my forefather who was here in Texas when it was still The Republic of Texas as well as many more ancestors had much history in New Braunfels. I won't bore you too much here but my Texas History is available on other pages. Go see the Texas Museum of Handmade Furniture which was my grandmother's grandparent's home. The Faust is a historic hotel with a nightclub downstairs, so fun to go see and stay at. The New Braunfels Herald-Zeitung is the local newspaper. The Comal Cemetary at 301 Peace Avenue is a 25 acre Texas Historic Commission Historic Texas Cemetary established in 1868.
Homes in New Braunfels
New Braunfels Historic Homes
There are many, many historic homes in New Braunfels many of which are for sale. Most New Braunfels really old pre-1880 historic homes are built of the old German fachwerk construction method. German fachwerk is an adobe brick type, earthen construction with cedar timbers for the frame and Cypress for the siding and roof shingles. Native limestone was used for the foundations of these homes. Bricks were hand made of mud which was many times bound together with horsehair or straw and formed in molds. Mud plaster covered the interior walls. In 1867 the town of New Braunfels required all roofs to be fireproofed so everyone went out and bought tin and nailed it over the existing roof. That is how New Braunfels became known as the Town of Tin Roofs. The Breustedt house which is now the Texas Museum of Handmade Furniture was constructed of the old German fachwerk and you can see the earthen bricks. Isn't it beautiful!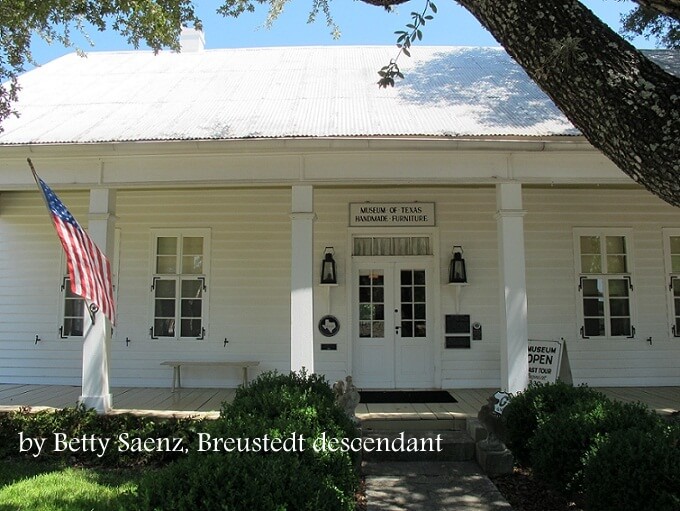 The Conservation Society as well as the Heritage Society of New Braunfels have done much to preserve historic New Braunfels homes and buildings. Give to or contact the Heritage Society of New Braunfels, Inc., C/O Heritage Village, 1370 Church Hill Drive, New Braunfels, Texas 78130. For information on adopting a building call Kathy at 830-629-6504.
New Braunfels TX Recreation
New Braunfels is now known for Schlitterbahn but when I was a little girl, we just played in the rapids, swam and fished. The Guadalupe and Comal Rivers are some of Texas' prettiest. Go see the Guadalupe River's Faust Street Bridge. Landa Park is a family favorite of mine with its beautiful trees and spring fed swimming pool for those hot Summer days. Comal Springs is the largest springs in Texas. Wurstfest has also become a Texas tradition since first held as Sausage Festival in 1961. Wurstfest is a non-profit which serves to raise money for many New Braunfels projects so go eat, drink and feel good about it! Wurstfest is held every November. The Panther Canyon Nature Trail is a 51 acre protected area in Landa Park. The Edwards Limestone fault is amazing. Enjoy the pedestrian trail through the Balcones Escarpment. I love to go to Granzin's Meat Market for German dried sausage.
New Braunfels Texas Real Estate
There are many historic homes in New Braunfels as well as homes in new home subdivisions. Children in New Braunfels attend Comal ISD or private schools in the area.
New Braunfels Texas Horse Properties
Eden Ranch, Heritage Oaks and River Oaks are excellent New Braunfels Horse Property choices. Eden Ranch off Purgatory Road or CR 215 offers beautiful Live Oak trees and wildlife. Heritage Oaks is a gated acreage community on the north side of State Highway 46, .4 mile west of FM 3009. Just take Heritage Oaks in.
New Braunfels Texas REALTOR
Call New Braunfels REALTOR Betty Saenz to see homes and land in New Braunfels at 512-785-5050 or contact Betty Saenz by e-mail. You may recognize Betty's family names of Raetzsch, Pieper, Breustedt and others around New Braunfels.