Austin TX Historic Homes FOR SALE
window.dataLayer = window.dataLayer || [];
function gtag(){dataLayer.push(arguments);}
gtag('js', new Date());
gtag('config', 'UA-76450306-2');
There are many fine old historic homes for sale in the Austin, Texas area. I adore the old slow growth wood and other materials as well as the fine craftsmanship and pride in the construction of these old Texas homes. In Austin itself there are many but they are usually much higher in price than the surrounding areas around Austin. In Old West Austin, there was a pre 1904 on Blanco for sale for about $900k which has been used as a Bed and Breakfast. Nice restoration work was done so the home had retained original character. Another Austin TX Historic Home on Kinney is an old farmhouse which has been fully renovated with many modern features like a two head shower, jet tub and more. On East 32nd there is and old one with period light fixtures, long leaf pine floors and a cupola with UT Tower views for about $750k. I'd love to show you an old, restored home. Occasionally there are historic homes FOR SALE on acreage with an old barn on 5 acres to over 100 acres where you can bring the horses and the chickens.
Austin Texas Historic Home Neighborhoods
Bryker Woods has many historic homes, lots of mature trees, easy access to MoPac and has the added feature of Casis Elementary School which many people love. The Enfield area of Old West Austin has many historic homes and is in the Casis Elementary School area. Pemberton Heights and Tarrytown also have many fine historic homes and Casis Elementary. University Park has old homes as well and is considered part of French Place. Hyde Park, Aldridge Place, Travis Heights and Bouldin are very popular for Austin historic homes. Downtown there are also some historic homes to live in such as a townhome on 6th Street. There are many architectural styles such as Arts and Crafts as well as Craftsman bungalows as well as homes with Art Deco influences. You may see cypress screens, copper gutters, Call Betty Saenz at 512-785-5050 or e-mail Betty Saenz to see Historic Austin Texas homes for sale.
Historical Homes Outside of Austin Texas City Limits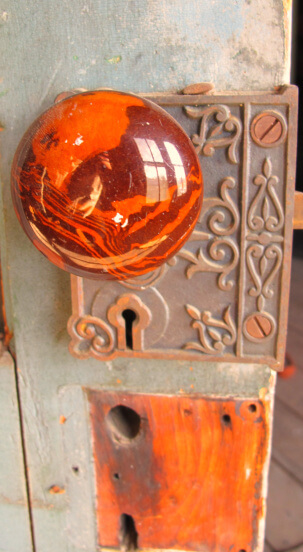 Outside of Austin Texas there are currently 101 homes or more built in 1930 or earlier Hutto Texas has some old homes in the old, historic part of town. Taylor Texas, just east of Hutto always has some great ones. Other towns with historic homes also in Williamson County, Texas are Georgetown, Walburg, Granger and Bartlett. Leander Texas, in Williamson County as well only has a handful of historic homes but one is an old 2 story Sears and Roebuck catalog home that has been sold. Burnet and Marble Falls in Burnet County, Elgin, Bastrop and Smithville in Bastrop County, Lexington TX in Lee County; Lockhart, Dale, Martindale and Luling in Caldwell County, La Grange in Fayette County, Johnson City in Blanco County are other Austin Texas area towns that may have old homes for sale. This amazing door is in an antique home currently for sale on 8 plus acres in Coupland TX, just NE of Austin. Let me show it to you!
Some other examples of historic homes recently on the market outside of Austin but not on acreage are an 1860 home in Burnet, Texas for just over $200,000. I'd love to show you this one! Beautifully restored, it sits on a large lot. In Marble Falls there is one built in 1888 that is of English Georgian style and made with granite exterior walls, out of the same granite that was quarried for our Texas State Capital on 2 acres, a city block for just under $600k. In Lockhart there was recently a 4,000 square foot plus red brick Colonial with the classic white columns and windows, a sweeping "Gone with The Wind" staircase and large screened porch. Also in Lockhart was a 4 bedroom, 4,000 square foot plus home replete with a wrap around covered front porch, working transom windows, leaded glass windows, wall of bookshelves with a library ladder for only $350,000. I just love this one in Elgin that is the 19th Century American Eastlake style which has an open front porch with rows of spindles and a beautiful octagonal corner turret with original metal crest. This one has so much original and historical attributes, even the original hitching posts to which horses were tied! There is also original leaded glass and original light fixtures all for only about $270k! There recently was a fabulous one in Georgetown, Texas already on the National Register of Historic Places. Built in 1875, this had modern conveniences and had been rewired and replumbed. Over 2,500 square feet on almost a ¼ acre lot for just under $300k.
Austin Texas Historical Homes on Acreage
In rural Leander, Texas there was an old restored farmhouse on just over 32 acres with Low E windows, tankless water heater and huge rainwater collection system for about $1.3 mil. For another antique home on acreage, there was a home in rural Stonewall in Gillespie County on 99 acres replete with the old original hand dug well, original 1880's smokehouse and 1,600' of Perdernales Riverfront for $1.9 mil. In rural Rosanky there was a remodeled early 1900's farm house on 100 acres for $1.095 mil which was ready to go as a horse or cattle operation. West of Dripping Springs in Blanco TX is a reproduction of a 19th Century German style home on 229 acres that I love in spite of it not being historic. The old looking home is constructed of 15' thick limestone walls, mortise and tenon jointed beams and has copper gutters, long leaf pine floors and so much more for over $3+ mil. Talk about thermal mass, the early settlers really knew how to build homes to keep you warm in the winter and cool in the summer and this home replicates that technique. This one has Amish made components.
Austin TX Historical Homes Architectural Styles and Features
You will see Craftsman bungalow style, early Twentieth-Century American Foursquare, Neo-Classical Revival, 19th Century German style and other historic architectural styles. Many of these homes already have Texas Historical markers, National Register of Historic Places markers, or city historical markers on them! Long leaf pine floors, limestone floors, beadboard, blown glass double hung windows, original leaded glass, original light fixtures, working transoms and high ceilings for excellent natural light and ventilation, plaster walls, multiple fireplaces, Count Rumford fireplaces, wrap around porches, turrets perhaps with metal crests, basements and claw foot tubs are among some of the features you may find. Enclosed sleeping porches are another feature you may find that I think is a feature that we need to come back. In the Fall and Spring, sleeping in a screened room is wonderful. Count Rumford fireplaces are the type of woodburning fireplaces that really heat and are not for mere decoration. Rumford fireplaces were popular from 1796 to the mid 1800's. Outside you may find original hitching posts or a hole in an old tree where mail at the stagecoach stop was once delivered to. I hate to see historic structures torn down, or just left unloved, so buy one today, restore a piece of Texas History or buy one already restored. Let me be your Buyer's Agent to buy your own Historic Texas Home!
Austin TX Historic Home Specialist REALTOR
If you are looking for historical homes to buy, I'd love to walk the journey with you for I too adore old, historic homes and architectural styles. I also can help you sell your historical home, researching, photographing and cataloging features for potential buyers. Call Betty Saenz Certified Historic House Specialist REALTOR at (512) 785-5050 or contact Betty Saenz by e-mail. These properties described as For Sale herein are all in Austin MLS in October of 2010 and may have sold afterwards but there are always some historic homes available in and around Austin, Texas. I also know of Historic Homes not in Austin MLS or in other areas of Texas. Below is a turret on an old 1906 home being used as the City Hall on Main Street in Elgin Texas – Bastrop County. Photo taken February 2012 after showing HISTORIC HOMES.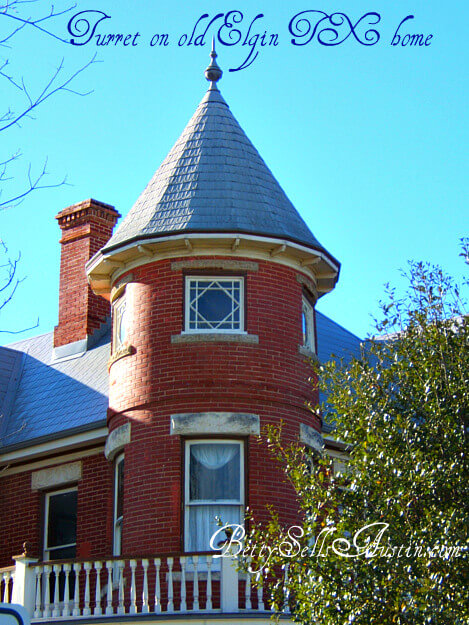 I have at least 3 German relatives who were here when or before Texas was a Republic. 2 Historic Homes that have been in my family that are now being saved as museums. One is the Valentin Hoch home in Hochheim Texas. Valentin or Valentine hand quarried the stone for his home which later became known as the Stagecoach Inn on the Indianola to Austin Texas road. He is one of several of my ancestors who is a Son of the Republic of Texas – here when Texas was a Republic. Another ancestral home is the Texas Museum of Handmade Furniture in New Braunfels Texas which was my grandmother's grandparent's home. It is a historic Texas German fachwerk home made from local materials. German Fachwerk is also known as the half timbering construction method. The early German settlers of Texas used the Cedar trees or Ashe juniper for the timber framework, many placed on a diagonal and filled the spaces with adobe bricks. The interior walls were then finished with stucco.