Taylor Texas Homes For Sale
Taylor Texas 76574 – Williamson County Texas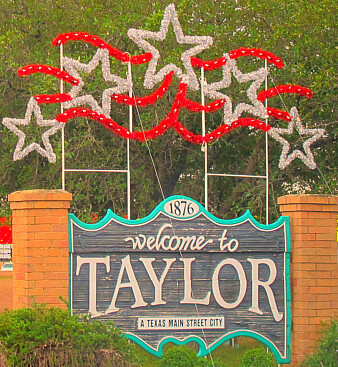 Taylor Texas is a town located east of Austin and Round Rock in fast growing Williamson County. Taylor has small town charm and is a Texas Main Street City. There is a lot of farming in the area for cotton, corn and feed grain or sorghum. The topography in Taylor is more of a rolling to level look than the Texas Hill Country west of IH 35. The soil is not rocky and of a blackland clay type – great for growing things! There are many fine old historic homes in Taylor at a bargain basement price. Downtown there are many really nice old historic buildings that one can rent or purchase. Taylor has a Municipal Airport, golf, many parks and fabulous Bar B Q.
Taylor Texas HOMES FOR SALE
Taylor TX has many very reasonably priced homes. Homes in Taylor Texas are currently eligible for 100% USDA financing.
Taylor Texas HISTORIC Homes
There are many beautiful, old homes in Taylor. Many have been remodeled but some also are ready for your touch. Many of these old homes have unbelieveable craftsmanship and features such as original hardwood floors, currently one I see has hand laid wood floors inlaid with various types of wood in intricate patterns, handcrafted staircases and have been updated with rewiring the electrical and updating the plumbing. There are homes from the 1880's and early early 1900's with original sinks, claw foot tubs, coal fired fireplaces, antique gas ranges, stained glass, leaded glass, long leaf pine floors, crystal chandeliers, antique wood fireplace mantels, operable transom windows, solid wood doors, expansive covered porches and more! I love old homes and love to look at them! There are homes with classic Revival, Craftsman, Victorian architecture styles and more. One home was built in 1915 and is featured in the book "Field Guide of Unique American Houses". Compare the old home prices in Taylor to Austin's and you may feel it is worth the short drive to Taylor.
You might consider joining the Taylor Conservation and Heritage Society which is a nonprofit involved in discovery, preservation, restoration and protection of historic buildings in Taylor Texas. Be sure and see their annual Christmas Home Tour.
Taylor Texas Historic Buildings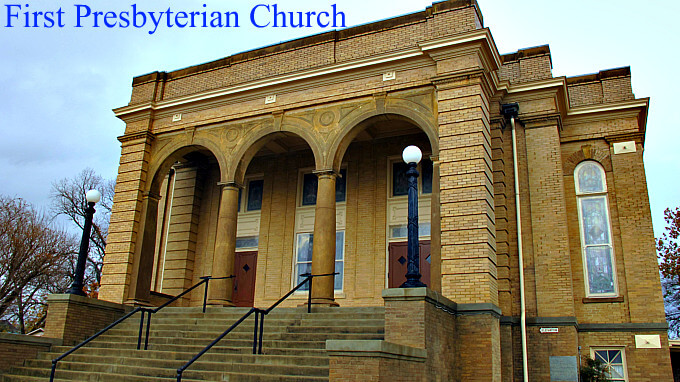 There are many historic old buildings in Taylor, Texas. Pictured above is the historic First Presbyterian Church in Taylor. There are old business buildings downtown, old churches and more. Many are restored and still in operation, many are in need of restoration. Won't you love an old building today?
Taylor Texas Historic Museum
While in Taylor, go see the Moody Museum at 114 West Ninth Street, Taylor, TX 76574. The Moody Museum was the home of Texas' youngest governor, Dan Moody. His family home has been restored and contains many furnishings of the Moody family. In 1923, Daniel James Moody Jr. as a district attorney for Williamson and Travis counties, became the first to successfully prosecute a member of the Ku Klux Klan. He is buried in the Texas State Cemetery in Austin, Texas. The Moody Museum is only open on Fridays and Sundays from 2 to 5pm. Admission is FREE but it is nice to donate a bit to help keep this fine museum open.
Taylor Texas Restaurants
There are many great internationally known Bar B Q restaurants such as Vencil Mare's Taylor Cafe at 101 N Main. I love the Taylor Cafe because it has great Bar B Q, you get to step back in time to the oldest building in Downtown Taylor and also get to meet meet Vencil Mare! Just GOOGLE the 2014 Super Bowl Ad for the Chevy Silverado called "Romance" on You Tube and you will see a glimpse of Vencil Mare and his Taylor Cafe front and door. The Davis Grocery and Bar B Q at 400 South Robinson Street has great Bar B Q too, including mutton. MasFajitas at 2600 West 2nd Street may have the best margaritas in town. Of course there is an Applebee's, McDonald's, Subway, Sirloin Stockade, Little Caesar's, Taco Bell and more but I love the local places. Louie Mueller Barbecue at 206 W. Second Street has won fame for its Barbecue. I love the fact that it is located in an old, historic downtown building with decades of wood smoke on the walls.
Taylor TX Shopping
Moss True Value, 200 Commercial Dr. is a fun place to shop for the unusual and fun. Wal-Mart and HEB are the largest grocery stores, HEB being a Texas born and bred grocery store with pharmacy and garden supplies.
Taylor TX Medical Care
The Scott and White Hospital at 305 Mallard Lane in Taylor TX as well as the Scott and White clinic at 403 Mallard Lane Taylor TX are among the fine medical care providers in Taylor Texas.
Taylor TX Golf and Parks
Taylor has a public golf course, many great parks and sports fields.
Taylor Texas Schools
Taylor TX new High School just opened. The state of the art high school is sited on 65 acres. Each student received an Apple MacBook.
Taylor Texas Directions and Location
From Round Rock, Texas on Interstate Highway 35 just head east on Highway 79. You will go through Hutto, Texas and then enter Taylor. I live in Leander and from Leander, TX I take 2243 east into Georgetown, turn left on Austin and then right on 29 or University. From 29 go to the T at 95 and 29 and then head south on 95 into Taylor. Taylor is about 20 minutes to Round Rock and about 15 minutes to Pflugerville.
Call Betty Saenz REALTOR at 512-785-5050 or contact Betty by e-mail to sell your home, farm or ranch in Taylor.