Austin TX from Indianola TX Stagecoach Road
window.dataLayer = window.dataLayer || [];
function gtag(){dataLayer.push(arguments);}
gtag('js', new Date());
gtag('config', 'UA-76450306-2');
Austin TX from Indianola TX Stagecoach
Many German pioneer settlers landed by ship at the German immigration port of Indian Point, Texas on Matagorda Bay. Carlshafen or in the English language Carl's Harbor is what this major port, second only to Galveston, was later named by German Prince Carl of Solms-Braunfels. Prince Solms was the commissioner general of the Adelsverein or Society for the Protection of German Immigrants in Texas. Valentin Hoch came to Texas through Carlshafen in 1845 (or from some accounts 1838) when Texas was a Republic or independent nation bordering both the United States and Mexico. The seaport of Carlshafen was renamed Indianola in 1849. Pictures of Indianola in 1875 show a boomtown with a population of about 5,000 people but after several hurricanes including 1875, and a final one August 20, 1886, the once booming major seaport became and is now a ghost town with Texas Historic Landmark signs. The Old Town Cemetary of Indianola is located on Zimmerman Road off Highway 316. I love to go visit Indianola, or what is left of it and contemplate what life would have been like in those days long ago. Here is a short film about the camels imported into Indianola for the Great Camel Experiment in Texas History
From Carlshafen TX to Hochheim TX
My forefather, Valentin Hoch, a German immigrant who was here when Texas was still a Republic, arrived at Carlshafen Texas with his wife, Margarethe Elizabeth (Pabst) Hoch and their children in December of 1845. His wife passed away after arrival and is buried there in Carlshafen. I do not know where her grave is there but wish I did. Valentin then travelled inland, stopping in an uninhabited spot in what was then Gonzales County in 1848. A Gonzales County Deed for land was filed February 17, 1948 for 45 and one half acres of land (now DeWitt County). Valentin started building a home at what later became known as Hochheim, Texas or "Home of the Hochs". Native stone was quarried by Valentin's own hands from the Guadalupe River area for the home he built. It took years to gather enough stone without the modern tools, blasting and transporting methods of today's stone quarries. Hoch's native Texas stone home later became known as the Stagecoach Inn, a place for travelers on the stagecoach line from Indianola, Texas to Austin, Texas to stop and enjoy food and hospitality. Hochheim Texas was a trading center as well as a stage stop which had a general store, cotton gin and steam gristmill early on. Hochheim's peak population number was in 1904 at 261 inhabitants. Hochheim, Texas is located in DeWitt County between Cuero, Texas and Gonzales, Texas on Highway 183. I travel this way when I go south to the Texas Coast so I can stop by and see his old house as well as the old Hochheim cemetery where many of my ancestors are. Valentin's small, private burial plot is in Hochheim on private land. The Hoch home is on the old Hochheim – Cuero Road about one mile from where the Guadalupe River is.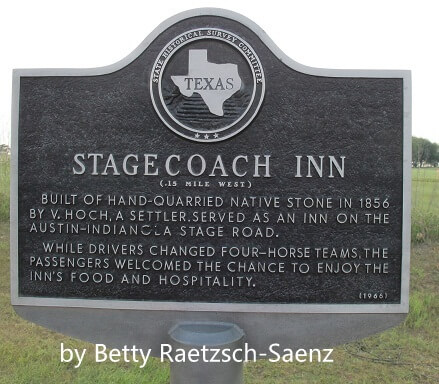 Texas State Historical Sign along Highway 183 by Hochheim, Texas notes the Stagecoach Inn on the Austin – Indianola Stage Road
This photo was taken by Betty Saenz in Summer 2011 of the Stagecoach Inn at Hochheim Texas near US Highway 183 and State Highway 111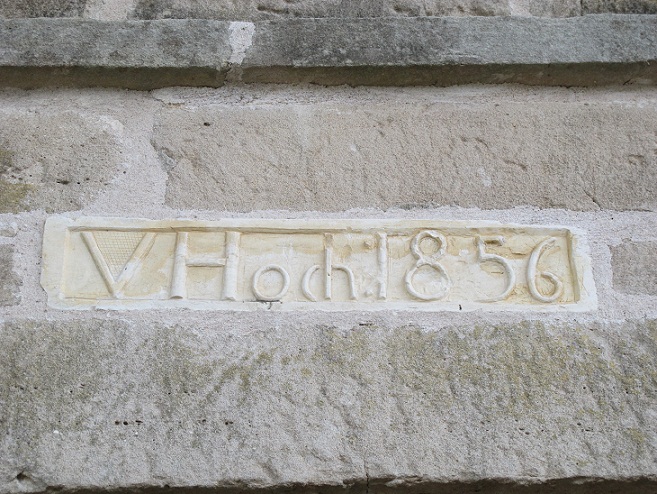 The date of 1856 of the Stagecoach Inn is carved into the home's limestone above the doorway, though 1857 is considered the completion date of the four year construction by some. Volentine Hoch was a stone mason and built the home himself out of native limestone he quarried by the Guadalupe River. Hoch's home in Hochheim, Texas became a stop on the Indianola, Texas to Austin, Texas Stagecoach Line, the Austin – Indianola Trail. Four horse stagecoach hitches stopped on their journey to Austin, Texas and other parts of Texas for refreshment. Three generations of Hochs lived in the two and a half story Volentine Hoch home.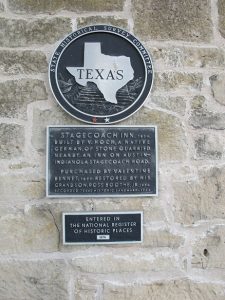 Historical Markers on the Stagecoach Inn at Hochheim, Texas, DeWitt County, USA. Please donate to the non-profit Hochheim Historical Foundation to preserve this piece of Texas history.
Hochheim Historical Foundation, PO Box 64, Hochheim, TX 77967
Hochheim Prairie Insuranse is still in existence today. Consider them if you are buying insuranse or considering a change in insuranse companies. Hochheim Prairie Insuranse covers Home, farm, auto and small business since 1892.
Hochheim Texas Ancestors
Many of my relatives are buried in the Hochheim, Texas Cemetary including Alma Raetzsch; Friedrich Karl Raetzsch; Mathilde M. (Fell) Raetzsch; Oscar E. Raetzsch; August Hoch and others. Valentin and other early settlers are buried in a small private cemetary in Hochheim, Texas. Valentin Hoch was born in Oberschoenau or Ober-Schonan, in the Alsace-Lorraine region of Germany October 15th, 1808; came to Indianola in December of 1845 and died July 7, 1890 at Hochheim, Texas.
Valentin Hoch Citizen of the Republic of Texas
Valentin Hoch is listed on The Daughters of the Republic of Texas website as a Citizen of the Republic of Texas. Any of Valentin Hoch's descendants are eligible for membership in the Daughters or Sons of the Republic of Texas. The Republic of Texas was an independent nation in existence from 1836 to 1846. There is a Family Web Site for Valentine Hoch on Geneology .com The Briscoe Center for American History at the University of Texas at Austin has a collection of Valentine Hoch Papers from the years 1845 and 1867 through 1868 in their archives that are available for research. I have also been to the Texas General Land Office and viewed and had copied other documents relating to my ancestor Valentine Hoch. The Victoria Regional History Center has a searchable Indianola Immigrant Database online that you might enjoy using.
Call Betty Saenz Native Texan at (512) 785-5050 to buy or sell your Texas home, horse property, Ranch or lot! Contact Betty Saenz Native Texas REALTOR and descendant of Valentine Hoch by e-mail