Recreation in Georgetown
Georgetown Texas Recreation
Georgetown offers much to do in fun and healthy recreational activities. Opportunities abound and include country clubs, golf, parks, hiking, biking, fishing, boating and many others. The Georgetown Recreation Center at 1003 North Austin Avenue (512) 930-3596 offers exercise classes, aerobics, spinning, swimming, an indoor walking track and more.
Georgetown TX GOLF Courses
Georgetown Texas offers many opportunities for great golf.
Georgetown Country Club is located just west of IH 35 at 1500 Country Club Road and has an 18 hole course. The private golf club also offers lessons from PGA professionals as well as a chipping and putting area. Call the Georgetown Country Club Toll FREE at (866) 769-8796 or the local (512) 930-4577 number.
The Berry Creek Country Club is a private course at 30500 Berry Creek Drive with 18 holes (512) 930-4615.
The 18 hole public Cowan Creek Golf Course is located on Cool Springs Road in Georgetown (800) 833-5636.
Legacy Hills Golf Club is an 18 hole public course at Sun City located at 301 Del Webb Blvd. (800) 909-1969.
White Wing Golf Club is an 18 hole public course at Sun City located at 151 Dove Hollow Trail (800) 909-1969.
Cimarron Hills Golf and Country Club is a private 18 hole course west of IH 35 at 5850 W. Highway 29 (877) 561-3331
Georgetown TX Live Theatre
Built in 1925, the Palace Theatre at 810 Austin Avenue in Georgetown has been refurbished, but still has the original Art Deco carpet from the 20's-30's in it. It has a nice large stage, probably as large as the Paramount in Austin.
Georgetown Trails, Swimming and Parks
Georgetown has one of the best trail systems in Central Texas. Town Lake (now called Ladybird Lake) in Austin is a great trail system too but Georgetown's trails are less crowded and have less auto traffic around them. To me this means cleaner air while exercising. I love the Blue Hole Pickett trail on the cliffs overlooking the South San Gabriel River. Not ADA accessible or extremely developed, I find it quite lovely and private. The Blue Hole road had washed out during the floods summer of 2007 but is built back now and is only for foot, wheelchair or bike traffic now. There is a historic cemetery adjacent to Blue Hole. Lake Georgetown features Jim Hogg Park on the north side and Cedar Breaks Park on the south side. San Gabriel Park off of N Austin Avenue is an award winning park featuring many mature Heritage Live Oak trees, the San Gabriel River and trails that connect to other Georgetown parks.
Georgetown TX Shopping
There is an HEB on IH 35 or the another one west of IH 35 for groceries. The town's square around the big old historic courthouse is fun to stroll & shop. Simon Malls' new Wolf Ranch shopping center is located at the corner of I-35 & Hwy. 29 at exit 261. Wolf Ranch offers many shops and restaurants all in a beautiful, native landscaped natural setting along the South San Gabriel River. Georgetown has a Farmer's Market as well and there is a new Farmer's Market opening March 2011 adjacent to the Monument Cafe. East of Georgetown on Highway 29 is
The Mercantile at Dyer Dairy. I love to go there to shop for raw milk, raw milk cheeses, raw local honey, organic foods, fresh produce, nitrate free meats, grass fed beef, pecans, locally roasted coffee and such. Call them ahead of time to reserve your raw milk at (512) 638-0415 and don't bring plastic, cash or checks are the only forms of payment they accept.
Georgetown TX Gardening and Garden Stores
The Native Plant Society of Texas (NPSOT) has a very active group in Georgetown. They meet on Thursday evenings at the Georgetown Library. McIntires on 2243 (Leander Road) near Austin Avenue is my favorite. They specialize in native and hardy plants that grow well in Central Texas as well as stock all my favorite organic supplies. They have an extensive variety of trees, shrubs, garden plants, seeds, garden ornaments and supplies. There is a great Native Tree Nursery on Highway 29 east of Georgetown, TX near 1660 (that goes to Hutto). Don't forget the wonderful Community Gardens in Georgetown on the east side.
Georgetown TX Restaurants
Georgetown Restaurants: In the town square area there are some nice restaurants such as Wildfire & Silver & Stone Restaurant and Wine Bar. Just up Austin Ave. from the square is the Monument Cafe. Fresh squeezed juice, free range eggs, fresh NEVER frozen or canned veggies- my kinda place! 500 S. Austin Ave, Georgetown. Tony & Luigi's is on 29 (University) and Church St. at 1201 Church St. (512) 864-2687.
For sushi & Japanese cuisine I love the new Hayashi Sushi & Grill at Wolf Ranch. Luby's, Applebee's & others on IH 35 are always great standbys.
Georgetown TX Event Centers
The Reunion Ranch is located at 850 CR 255 in Georgetown, just north of Lake Georgetown. I go there every year for the 3M Club Company picnics and enjoy the facility very much. It has Disc Golf, Paddle Boats, a swimming pool, miniature golf & other ammenities. The Georgetown Country Club also offers a great venue for wedding receptions and meetings.
Georgetown TX Civic Organizations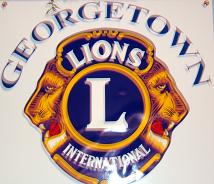 You might consider joining the Georgetown Lions Club, a civic organization.
Georgetown TX Dog Park
Georgetown, TX has its own Bark Park for dogs. Located at 151 Holly Street in Georgetown, the Georgetown Bark Park is a completely fenced dog park in case your pet isn't good at recall! There are many shade trees and there is both a big dog side and a little dog side. The big dog side is HUGE. One of my dogs is good at recall and the other 2 are a little questionable so I love that fact that it is fenced.
Georgetown TX Cave
You will enjoy Inner Space Cavern in Georgetown Texas if you like caves. This cave was discovered in the 1960's when crews were excavating to build IH 35. There are many live cave formations such as stalagmites, stalagtites, columns as well as prehistoric bones. I love caves and have been to this one. There is a dot com website under My Inner Space Cavern for further information.
Call Georgetown REALTOR Betty Saenz at (512) 785-5050 to see homes, land, horse properties and ranches in the Georgetown, TX area or contact Betty Saenz by e-mail.