Smithville Texas Homes For Sale
Smithville Texas 78957 – Bastrop County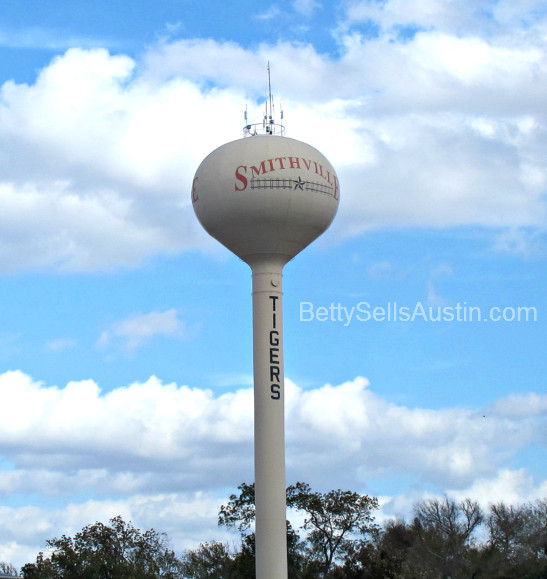 Smithville Texas is a small town near Bastrop Texas and the Colorado River that was established in 1827. Many films have been shot in this beautiful town including Hope Floats with Sandra Bullock, Tree of Life with Brad Pitt and Sean Penn, Natural Selection and Beneath the Darkness with Dennis Quaid among others. The great old buildings in Downtown Smithville Texas are part of its charm. Set in an area of the Lost Pines of Texas, Smithville is a very beautiful small town. The Smithville Texas public school system is called Smithville Independent School District whose High School sports team is called the Tigers.
Smithville TX Horse Properties and Ranches
There are many Horse Properties in Smithville Texas from under $100,000. to almost $2 million for a ranch with 51 acres and multiple homes, barns and outbuildings with super low taxes or a ranch with 68.72 acres, a stone home, fenced and cross fenced per Austin MLS January 2012. Call Betty Saenz REALTOR at 512-785-5050 or e-mail Betty Saenz to see Smithville area horse properties, ranches and historic homes.
Smithville Texas Historic Homes
There are many historic homes and commercial buildings that occasionally come up for sale in Smithville. 202 Main Street was recently. 202 Main Street is a historical downtown building where you can live in the back and operate a business in front. There was also recently listed a restored 1895 historic home with 5 bedrooms and 2,400 square feet for only $179,000. On 4th Street there is a beautiful 1861 built; 3,403 square foot, 2 story historic home for sale with stained glass windows, original beadboard, hardwood floors and more for $279,000. Call Betty Saenz REALTOR or e-mail Betty Saenz to see historic Smithville Texas homes.
Smithville Home Sarch