Recreation in Leander
Recreation in Leander
The City of Leander offers many recreational activities for people of all ages.  There is a city owned golf course, community theatre, abundant shopping, swimming, disc golf, nature trails and more. Here is a Leander Trails Map with Recreational Facilities and Parkland of Leander, TX.
Leander TX LibertyFest
July 4th 2010 was the 10th annual Liberty Fest Independance Day Celebration at the Crystal Falls Golf Course down Crystal Falls Parkway in the master planned Crystal Falls neighborhood development. Park at Leander High School and Shuttle Busses will take you in. City Officials get VIP passes to park at the City owned Crystal Falls Golf Course parking lot but all others must use the FREE shuttle busses.
Leander TX City Library
The recently built 17,000 sq. ft. City Library at 1011 Bagdad Road, Leander, TX 78641 opened in October of 2006. The Leander Library landscaping is also a great example of waterwise landscaping with native and adapted plants. The first Saturday of every month The Austin Dog Alliance will be bringing reading therapy dogs from 10am to 12pm. Read their page about bow wow reading dogs & how they benefit children's reading skills.
Leander TX Activities for Seniors
The City of Leander has many activities for Senior Citizens including the Active Adult Morning Club Recreation Center as well as Active Adult Day Trips for people age 50 and better. Check the City of Leander website for a printable schedule.
Leander Parks
The Leander Parks & Recreation Department (PARD) operates 5 parks with over 115 acres. Peace, Love and Parks is their motto and logo. Leander PARD also holds Spring Egg-Stravaganza, Liberty Fest, Movies in the Park, Full Moon Concert Series, At 601 S. Bagdad (at Dexter Street) is Robin Bledsoe Park. Many Leander events are held at this park. Devine Lake Park has a great leash free area for your canine friends.  We take our dog there to run. Devine Lake is a beautiful park with many trees & has some soft mulch trails through wooded areas. There is also a great playscape for the kids and covered picnic or party area. Benbrook Ranch Park off Bagdad north of 2243 has a Disc Golf Course. Check out the Leander Parks & Recreation Department facebook page for current activities.
Balcones Canyonland Preserve & Travis Audobon Sanctuary
Wonderful birdwatching as well as possible sightings of red & gray foxes, ring tail cat, deer, etc. as well as native plant species.  There was recently a 16 acre place for sale bordering it if you like nature!  Call me to see more properties like that – Betty Saenz REALTOR (512) 785-5050.
Leander TX Golf
Crystal Falls Golf Club is a scenic, city-owned 18 hole course open to the public for golfing in Leander.  It includes a pro shop, grille, teaching professionals & a driving range.  Very pretty views, canyons, streams & wild turkeys!  Just head west on Crystal Falls Parkway from Lakeline or 183 to 3400 Crystal Falls Parkway, Leander, TX 78646.  (512) 259-5855 Go to their website and get a FREE Round of Golf. The grill at Crystal Falls Golf Club is designed for the golfers but open to the public from about 7:30 am until 5pm.  The grill has grillroom fare done very, very well: burgers, patty melts, grilled chicken sandwiches, grilled chicken burrito, hot dogs, Philly cheese steak- Angus beef, all prepared to order.  For breakfast are breakfast tacos, eggs, bacon, sausage.  Premium & domestic beer is offered. Daily specials during season- mid March through November like specialty sandwiches, stew, specialty pizzas.  On weekends the grill has a closer to 7am opening time.  BBQ or Hamburger buffets are offered for Golf Tournaments at Crystal Falls.
Leander TX Live Theatre
Leander's Way Off Broadway Theatre (WOBCP) is a wonderful live theatre experience by an all volunteer cast, the Way Off Broadway Players and volunteer crew. Previously located on East Crystal Falls Parkway between the new 18A & Ronald Reagon (aka Parmer), the theatre now has a new home at the new strip center called the 2243 Business Park where Smoky Mo's Bar B Q restaurant is on Nameless Road (2243) just before Bagdad accross from the old Bagdad Cemetary. Call Skip Dunnet for more info. (512) 259-5878.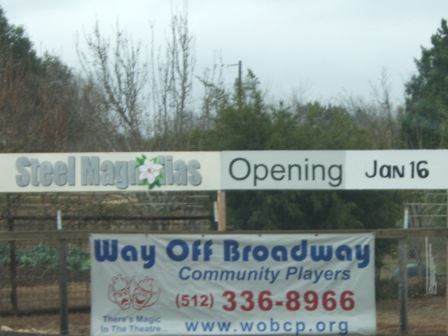 Leander TX Don Tew Performing Arts Center
Leander ISD's Leander High School has plays, recitals & events at its Don Tew Performing Arts Center, a multi-use facility on Bagdad. The 900 seat auditorium has a removable band or orchestra shell, the latest acoustics for superior sound, extensive catwalks. For rental info. contact Leander ISD.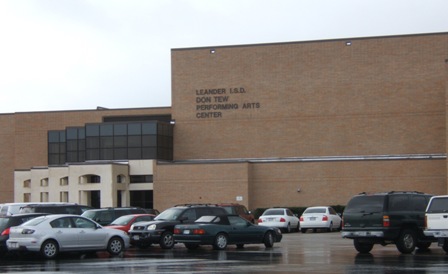 Leander TX Live Music
Various restaurants offer live music such as Southern's Pizza & Sports Pub, O'Leander and others. The Cedar Park Center on 183A and New Hope has live music concerts as well as other events.
Leander TX Good Earth School Petting Farm
The Good Earth School Petting Farm is now open from Monday through Friday from 9:00am to noon. Admission is $2.00 per child, parents & children under 1 FREE. Monday is 1/2 off. Click the link above to go to their website for a current schedule of events before heading out.
Leander TX Horseback Riding, Horse Boarding and Riding Lessons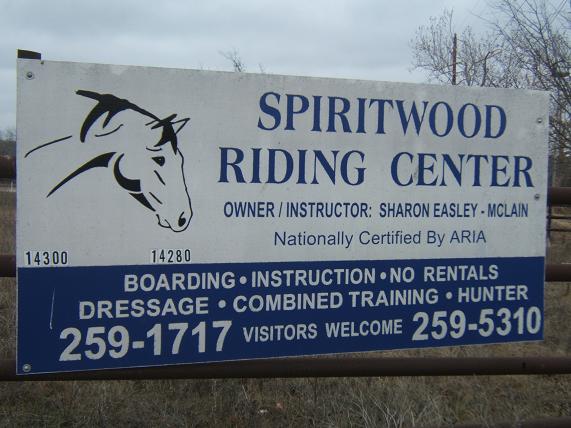 Spiritwood Riding Center on Ronald Reagan Boulevard  (aka Parmer Lane)
There is also Ramaker Stables on County Road 179 off Parmer (Ronald Reagan).
Leander TX Bus Roadeo in the TOD
The Capital Metro Bus Roadeo team practices & holds the annual Bus Roadeo at the Leander Park & Ride since it is a large expanse with little use on the weekends.  They set up cones and the bus drivers must navigate precisely within inches instead of feet or yards.  This further fine tunes the skills of these professional drivers.  The 2009 Roadeo was held April 5th (Palm Sunday) at the Capital Metro Park & Ride lot. The public is invited to come and see the skills of these highly trained bus drivers. There will be activities for kids.  Mayor Cowman participates as well. Come support these great drivers who's expert skills help to keep bus riders safe.
Austin Steam Train
Austin Steam Train: Ride the old Austin Steam Train which is headquartered at 401 Whitestone Blvd. in Cedar Park. For right now, the train uses a 1960 diesel Alco engine while the old 1916 steam engine is being repaired.  Run by an all volunteer crew, the Austin Steam Train Association, a 501(c)3 organization.  The usual run is the Bertram Flyer- a run up to Bertram from the station in Cedar Park behind the Railyard. They train has special Murder Mystery train rides with dinner & drinks.
Leander TX Volunteering
The Way Off Broadway Theatre, Meals on Wheels, LISD Mentor Program, & animal shelters always need volunteers.
Leander TX Newspapers
The Leander Ledger, the Hill Country News, Community Impact.  The Austin-American Statesman & the Chronicle are also available in Leander.
Leander Biking
Ronald Reagan Boulevard (aka Parmer) on the East side of Leander is a place where many bikers ride for miles and miles. Ronald Reagan goes all the way to Georgetown, TX now and is very scenic. Crystal Falls Parkway in the Crystal Falls neighborhood has devoted bike lanes and the car traffic speed limit is 30 mph. It is very scenic with hills and views for miles.
Leander Hunting
There is hunting on various private ranches in the area but the ranch just south of Cold Springs on the west side of Ronald Reagan offers paid hunts on their private ranch for exotics..
I hope you found this information useful. I want to help newcomers as well as people considering a move here. If you want to buy or sell a home, ranch or land Call Betty Saenz (512) 785-5050 or contact me by e-mail.