Leander Texas Services
Leander Texas Services
Leander TX Fabric Store and Sewing Classes
Sew Something was a great Leander Texas fabric and notions storefront that specializes in sewing classes. Sew Something even has Sewing Parties for children! Now operating out of her home- Call Sew Something at 512-694-5912 and see Sew Something's Facebook page.
Leander, TX Lawn Care
Leander had its own Keepin' It Weird- try this one on for size! Jack's Mowin', Grounds Keeper 512-788-0840 Steve O'Neal is the propreitor so guess why it is called Jack's Mowin'? Here's a hint- a male donkey is called a jack. There is a donkey that pulls a cart with the lawn equipment in it. I mean the donkey may eat and fertilize a bit while there but the lawnmower does the cutting. Plus- Steve will give your child a little ride around the yard as an added bonus.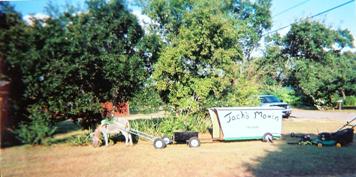 Leander TX Hardware
Ace Hardware in Leander is located on 2243 (Leander Road) at Hwy. 183 right by the railroad tracks. Just walk in and the friendly and knowledgeable staff will be happy to help you. Ace Hardware in Leander is also a UPS shipping center. I've had as many as 5 people helping me at 1 time! See Mike McAnally, Paula, Nate, Larry, Sean or Harry, have some FREE popcorn and be happy you came in! There is also a big Lowe's at 1495 Highway 183 (512) 260-5670.
Leander TX Auto Repair
I get my car's oil changed on Crystal Falls across from O'Reilly's Auto Parts and repair my car at All Day All Night on East Crystal Falls, just east of Highway 183 and the Leander commuter railroad tracks. There is also a Firestone on 183 in front of Lowe's and several auto parts and oil change shops.
Leander TX Beauty Shops and Nail Salons
Luxury Nails and Spa, 651 N. Highway 183 #33 (by HEB Plus, in The Forum shopping center), Leander 78641 (512) 259-0889 Solar, acrylic and gel nails, silk wraps, manicure, pedicure, waxing, facials, etc. Bella's Beauty Salon at 204 N. Brushy St. has great prices on services like color, cuts and more.
Leander TX Civic Organizations
The Leander Lion's Club has merged with Cedar Park's. There is also a Masonic Lodge on Sonny near the Leander TX Post Office.
Leander TX Pets Rescue Groups & Shelters
Humane Society of Williamson County, a no-kill shelter is located in Leander, Texas at 10930 E. Crystal Falls Parkway (512) 260-3602. Central Texas Society for the Prevention of Cruelty to Animals, Central Texas SPCA a no-kill shelter is located in Leander, Texas at 909 S. Bagdad Road (512) 260-7722. Williamson County Regional Animal Shelter, 1855 SE Inner Loop, Georgetown. Williamson County Regional Animal Shelter
Leander TX 78641 Recycling
Join Leander FreeCycle is a grassroots and nonprofit movement to keep good stuff out of landfills by re-using useable stuff. Trails End Recycling at 1431 and Trails End at 12510 Trails End Road, Leander TX 78641 512-646-2222 is a great place to take old computers, old mobile phones, tin, lead, motors, copper wire, aluminum cans and more.
Leander TX Bed and Breakfast
Stay at the Gold Coat Inn Bed and Breakfast and support local art and shop at the Gold Coat Inn Gift Shop, 2901 CR 175, just west of Parmer. Say "HI" to Jo for me! On many weekends they offer a beautiful breakfast for the public as well as their bed and breakfast clientele.
Leander TX Camping
There is a KOA Campground in Leander, Texas at 1351 County Road 269 just north of 2243, near Highway 183A. Call the Leander northwest Austin TX KOA campground at (512) 259-7200 or Toll Free Reservations at (888) 562-3426 This KOA is Open All Year and has a swimming pool, hot tub, rentable cabins, Free Wi-Fi, gameroom, playground, 24 hour laundry and showers, store, propane, firewood and more. They have a website under NW Austin KOA for more information.
Leander TX Real Estate Agent
Call Leander Texas Real Estate Agent Betty Saenz at (512) 785-5050 Betty Saenz lives in Leander and knows Leander well! SHOP LOCAL! Shop with a Local REALTOR Betty Saenz Contact Betty Saenz by e-mail Click this link for Leander Home Search