Leander Homes For Sale
Leander Texas 78641 – Williamson and Travis Counties TX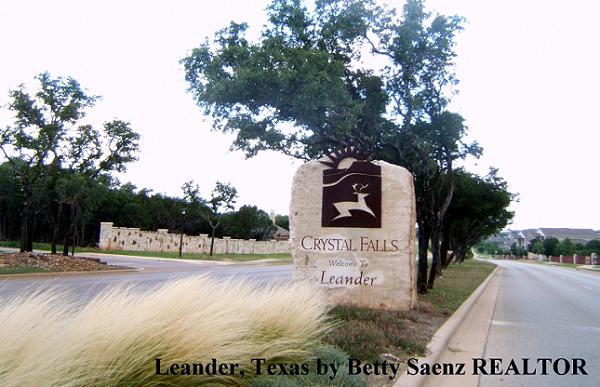 Leander Texas is just northwest of Austin Texas and is located mainly in Williamson County although the western area of Leander is located in Travis County. Leander's current population is almost 50,000 people and is rapidly growing. Eventually over a period of decades Leander will be ballooning to 250,000 or according to some accounts even 350,000. At that point, it is predicted that Leander will be the biggest city in Williamson County. Out of 19,500 US cities, Leander is the 37th fastest growing city. Out of 1,210 Texas communities, the 10th fastest growing is Leander. Leander is located just northwest of Austin and Cedar Park, Leander sits in both Travis and Williamson counties. Known originally as Bagdad, Leander was founded by that name in 1854. Betty Saenz is a Leander Texas REALTOR at 512-785-5050 or e-mail Betty Saenz to see homes, ranches or horse properties or sell your home, ranch or horse property in Leander Texas. The Crystal Falls Golf Club is a scenic, challenging and fun 18 hole course to play as seen below in this Fall 2011 photo.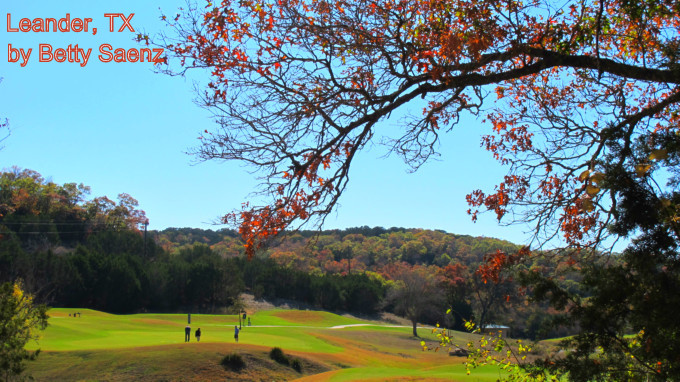 Leander Texas Shopping and Restaurants
There is a Lowe's, Kohl's and HEB Plus (was the 2nd biggest HEB Plus in Texas) that have opened in the last few years. IBC Bank on 183 and Crystal Falls as well as Taco Bell, Pizza Hut and McDonald's a few lots down. Starbuck's coffee shop opened a few short years ago south of Crystal Falls on Highway 183. See my Leander Restaurants web page for a full listing of Leander Texas Restaurants. Mattress Made Easy is a great shop for deals on name brand mattresses at 11880 Old 2243 near Bagdad 512-354-1513. Just south of Starbuck's coffee is a shopping center with many stores and services including Baby Face, a jeweler, a tutoring service, a Mexican market and more.
Leander Texas Public Transportation and Developments
Leander is the only Austin Metro area city that bought into the Capital Metro commuter rail. At the Leander TOD or Transit oriented Development – there is a Capital Metro Park and Ride where Express buses and Commuter Rail are available to the public for a quick trip into Austin TX. All the buses and trains have Wi Fi for using the Internet on the way. You can take the commuter rail in to Downtown Austin Texas on Friday and Saturday nights to enjoy dinner and a show without having to find parking and deal with all the one way streets and traffic. Williamson County is one of the fastest growing counties in Texas. Leander Demographics and Traffic Counts. Sites and Facilities in Leander
Leander Texas Bed and Breakfast
Stay local at the Gold Coat Inn Bed and Breakfast 2901 County Road 175, Leander,TX 78681 (512) 986-7430 Located next to the Williamson County Regional Park which has sports courts, hike and bike trails and great disc golf. You will love this quaint, small Inn. They also are open on the weekends for breakfast and do weddings and catering.
Leander Texas Newspapers
Leander Newspapers are the weekly Leander Ledger (512) 267-4449, Community Impact and the Hill Country News. The Austin American-Statesman and the Austin Chronicle are also available.
Leander TX Chamber of Commerce
The Leander Chamber of Commerce was located at 103 North Brushy Street, Leander, TX 78641 but moved to its new home across the street at 100 North Brushy a few years ago. The building the Leander Chamber is housed in is actually an old Leander historic home that has been remodeled to be the Leander Chamber's new home.
Leander TX Communities
There are many neighborhoods that make up the City of Leander. Whether you need entry level housing, a historic home, a home for your horse or a several million dollar spread with spectacular Hill Country, waterfront or lake views- you can find it in Leander. Crystal Falls is the largest master-planned community in the Austin, Texas area. Made up of several different neighborhoods such as Highlands at Crystal Falls, Woods at Crystal Falls, Boulders at Crystal Falls, Grand Mesa at Crystal Falls (gated), Grand Mesa IV at Crystal Falls, Grand Mesa V, Fairways at Crystal Falls (gated), The Estates at Crystal Falls (brand new section).  Crystal Falls is synonymous with quality in planning, million dollar views and amenities, and lower prices than similar areas of Austin TX. Old Town is near the Leander City Offices in the TOD area. Nearby is Magnolia Creek. Cold Springs is a newer development just north of Cedar Park on Ronald Reagan (Parmer Lane). Valley View, Parker, Highmeadow Estates and Stonehurst are  nearby. Vista Ridge neighborhood is by Robin Bledsoe Park off Bagdad. Just accross Bagdad on Municipal is Westview Meadows. Mesa Vista Estates subdivision in Leander, Texas is a little known, newer area that is hard to find. Located off Bagdad Road, north of 2243 or Nameless Road is Mesa Vista. Block House Creek is in both Leander and Cedar Park and includes the Vineyard at Block House Creek. Lakeline Ranch, Timberline West and Ridgeoaks are in the Osage and Bagdad area. Horizon Park is located off of East Crystal Falls Parkway as are Ridgewood North and Ridgewood South. Also off East Crystal Falls Parkway is Oak Ridge subdivision in Leander. Next to Oak Ridge along County Road 273 is Overlook Estates– a lovely acreage neighborhood. Both  Overlook Estates and Oak Ridge will open up to the southern part of the Leander TOD once more of the TOD is developed and goes vertical. North of the Leander TOD and west of 183 are Porter North, Summerlyn, Silver Creek Ranch, High Gabriel West and Robinson subdivisions.  North and east are also the new Bryson neighborhood, as well as Gabriel Cove, Mansil and High Gabriel East. West of 183 are the neighborhoods of County Glen, Mason Creek, Woods at Mason Creek, Mason Creek North, Old Town Village, Westwood, North Creek, Estates of North Creek Ranch, Benbrook Ranch, Apple Springs  Honeycomb Hills, Hidden Mesa, Hornsby and almost 110 acre Palomino Ranch gated neighborhood. Off 2243 on way to 1431 are Leander Hills, Pecan Hollow Ranches, Sandy Creek Ranches, Allen G, Round Mountain Oaks, South Cherry Hollow Estates, Leander Hills and Great Oak Estates. Near the lake are Mason Estates, Rusk Transport Co, Lake Travis, Trails End, Lonesome Valley, Panoramic Hills, Settle, Hayford, Valle Verde Beach, Sandy Shores, Volente Heights, Arrowhead Point, Northshore on Lake Travis, Rocky Point on Lake Travis, Coleman, Lone Mountain (gated), Red Wagon Ranchettes and Gate Hollow Estates. Post Oak Estates, near Lakewood has some exquisite luxury homes.

    A Rural area of Leander, Texas in Travis County
Leander ISD or LISD is said to have started in Leander in 1893 but does relate back to the 1855 Bagdad school. Now LISD is the largest school district in Williamson County. In 12 years Leander ISD grew from only 6 schools to 33 schools in the 2008-2009 school year. The school district covers Leander, Cedar Park and parts of Northwest Austin and into Steiner Ranch. LISD offers a mentoring program for students with more than 220 volunteers.
Leander Texas also has many private as well as charter schools. Leander Charter Academy at 1403 Raider Way in Leander Texas 78641 512-259-2577 and the Founders Classical Academy at 1303 Leander Drive in Leander Texas 78641. The Goddard School is located on Union Drive and East Crystal Falls Parkway. The Good Earth Day School is on East Crystal Falls Parkway, just east of the 183A Expressway. The Founders Classical Academy school at 1303 Leander Drive is getting rave reviews!
Leander, Texas HOMES: Start Your Leander Home Search!
Map of Leander 
Leander, Texas REALTOR Betty Saenz at (512) 785-5050 or contact Betty Saenz LEANDER REALTOR by e-mail. I live in Leander and Love Leander! I'll show you around! I have lots of information on my city.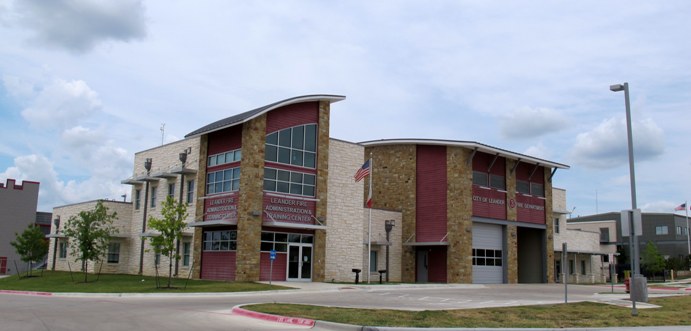 The Leander Fire Administration and Training Facility and Leander Fire Station number 3 pictured above is a state of the art, recently built facility at 101 East Sonny Drive in Leander Texas. This is also where the City of Leander Permits Department is located. Read all about it on the Leander Texas Fire Department web site