Historic Leander
Leander TX History
Recent Leander History
MetroRail Open House was held Feb. 7, 2009 10am to 2:00pm. The sleek new Swiss made train met the old Austin Steam Train on the railroad tracks at the Leander Station in the Leander Transit Oriented Development or TOD.
Mayor Cowman is Dead: Next door to the Leander City Library is the late Miss Mason's homestead that  the city now owns. Miss Mason was a wonderful citizen and benefactor of the City of Leander. After Miss Mason passed away in 2008, the new Leander Ledger newspaper mistakenly reported that Mayor "Cowman died September 13th" instead of Miss Mason. The mayor woke up and read in the paper that he was dead. He immediately called his mom to let her know all was well. People from all over & out of town staff called Leander city offices to see whether it was true. That mistake created an international news story sensation on TV, the web & newspapers and adds another saga to Keepin' It Weird in Leander. Google it- you'll see.
Leander Texas Historical Markers
Historical Markers in the City of Leander: A.S. Mason House, Bagdad Cemetary, Heinatz Homestead
Old Town: Part of the Leander TOD, Old Town includes some older homes and buildings that are part of Leander's past. The Leander Planning Dept. is located in an old two story home. The new Leander Chamber location will be the one story old blue home that was moved next to the Planning building.
Bagdad Cemetary: This old historic cemetary located at the corner of Bagdad and 2243 was the site of some of the filming in The Texas Chain Saw Massacre movie.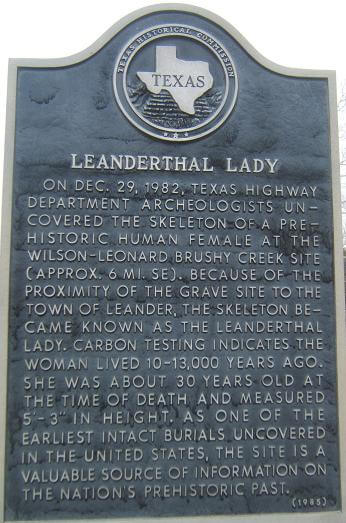 Ancient Leander History:
Dinosaur Tracks on the banks of the South San Gabriel River. To go see the dinosauer tracks makes a nice, scenic nature hike. Just park your car near 183 at the South San Gabriel River and hike in. The river is alway low and the bed exposed unless there have been recent rains. DO NOT try this after heavy rains.
Leanderthal Lady, a well preserved skeleton, was found by the Texas Highways & Public Transportation crew when excavating FM 1431 (Whitestone) in 1982. She is from the paleo-American culture 8-12,000 years ago. More info. on the Leanderthanl Lady can be found on the Texas Parks and Wildlife website. The Leanderthal Lady is being stored at the J.J. Pickle Campus of the University of Texas.
History of Williamson County Texas including Williamson County's Namesake "3 Legged Willie"
To buy a home in historic Leander and create your own history here call Betty Saenz, Leander REALTOR and resident 512-785-5050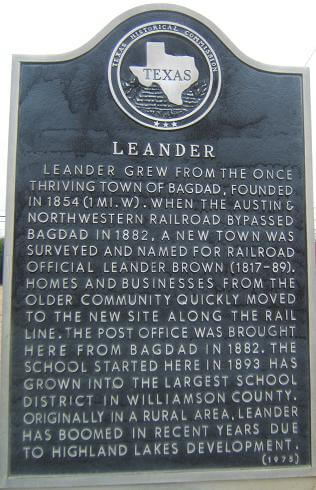 You could say that the roots of Leander,TX were called Bagdad. Bagdad did not want the railroad, so up sprang Leander.