Crystal Crossing Homes For Sale
Crystal Crossing – Leander Texas 78641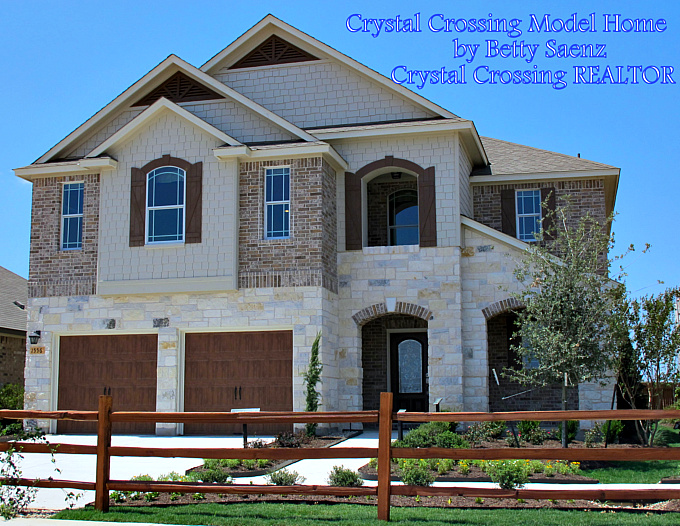 Crystal Crossing is a residential subdivision built in the 2010's  in Leander, Texas. New homes were originally priced from the $150,000.'s but you can see how the values have appreciated in the map below. The builder of Crystal Crossing is KB Homes. Since KB Homes is almost closing out Silverado Ranch on Vista Ridge in Cedar Park, Texas, Crystal Crossing is meant as the replacement for Silverado Ranch. Home styles and plans are similar to Silverado Ranch and model homes are up now. One New Home Model is the 2655 which has a game room upstairs.
Homes range from 1,376 square feet to 3,728 square feet and are built on 50 and 60 foot lots as well as a few on 45 foot lots. These new homes In Crystal Crossing will have from three to six bedrooms and 2 to 4 baths. One of the things I like about Silverado Ranch is the lovely landscaping. There was only one large deciduous tree and only Ashe Juniper or "Cedar" trees on the site for the home lots before it was scraped. Now, new trees are being planted. A low water use, Native Texas plant design is being implemented, it not only will look extremely attractive but will be eco-friendly. There is a large neighborhood water retention pond that will be very attractive once completely finished. Unlike some of the ugly concrete box style retention ponds, Silverado Ranch's is an actual pond with marginal plants all around. It adds to the beautiful landscape design rather than detracts. A similar pond is currently being finished and established at Crystal Crossing. East Crystal Falls Parkway between 183A and 183 was just rebuilt so there is a nice new parkway road fronting this new Leander Texas neighborhood.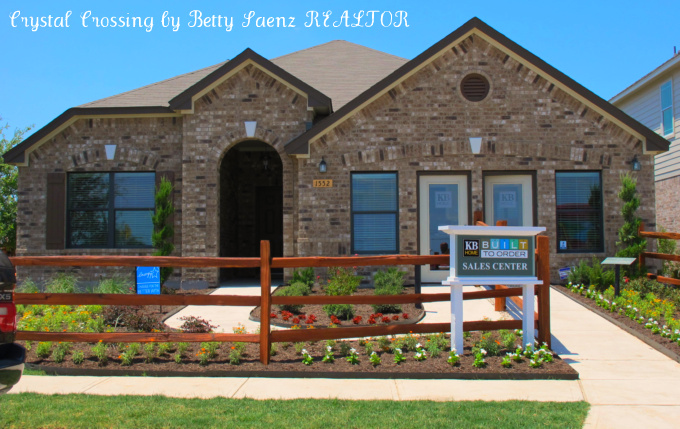 Crystal Crossing Real Estate Agent
Call Crystal Crossing Real Estate Agent Betty Saenz at (512) 785-5050 or e-mail Betty Saenz to reserve your NEW home in Crystal Crossing. I live next door to the new Crystal Crossing neighborhood in Oak Ridge. I can represent YOU the Buyer and help to protect YOUR interests! Did you know that the Builder's Salesperson represents the builder only?
Crystal Crossing Location
Crystal Crossing is located in growing Leander, Texas at Spring Hollow and East Crystal Falls Parkway (otherwise known as County Road 272) next to Ridgewood North. Notice that it is the Spring Hollow showing north and south on the map below. NOT the Spring Hollow Drive in Oak Ridge. Spring Hollow Drive, which begins in Oakridge and ends in Ridgewood North was opened up to go into Crystal Crossing. Spring Hollow was a stubbed out street, closed to through traffic but is now open into the Crystal Crossing neighborhood. Lakeline Mall, 1890 Ranch, HEB Plus and Kohl's are available for nearby shopping. Leander's Crystal Falls Golf Club is just down the street for great golf!!