County Glen Neighborhood Homes For Sale
County Glen Neighborhood – Leander TX 78641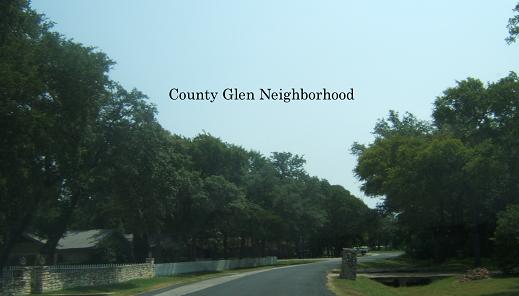 The County Glen Neighborhood in Leander, Texas is located west of Highway 183 and just south of Crystal Falls Parkway. What I like about the County Glen Neighborhood is the large lot sizes, lots of tall shady trees and a feel like you are out in the country or a forest perhaps. Backing to County Glen is the small neighborhood of Hernando's Hideway.
County Glen Streets
County Glen Street names are of an Irish vein and include Shamrock Drive, Tyrone Drive, Ireland Drive, Dublin Drive, Emerald Isle Drive, Londonderry Drive, Killarney Drive, West Drive, Tipperary Drive, Limerick Drive, County Glen Street, County Cork Lane and others.
County Glen Neighborhood News
Per The Hill Country News August 12, 2010, The City of Leander has $23.8 million in 20 year bonds. The city intends to use part of that for drainage improvements in County Glen.
County Glen Neighborhood Schools
Children in the County Glen Neighborhood attend Leander ISD schools or one of the private schools in the Leander, Texas area.
County Glen REALTOR
Call Betty Saenz County Glen REALTOR  to see Homes for Sale or Sell Your Home in County Glen (512) 785-5050 or contact Betty Saenz by e-mail.
County Glen Leander Amenities
Just walk or roll across Crystal Falls Parkway and there is Lowe's, Kohl's and more. Just a bit further north is the Leander Train Station where you can catch a bus or train into Austin, Texas. Just down Crystal Falls to the west is the beautiful Crystal Falls Golf Course. Owned by the City of Leander, Crystal Falls Golf Course gets rave reviews. Leander also has the Way Off Broadway Theatre. I love to go see plays. The Way Off Broadway Community Players auditorium is also available for rent for parties, meetings, etc. I also love to hike up the South San Gabriel River and see the dinosaur tracks. Leander has a great Library and many great parks. Neighboring Cedar Park has the Cedar Park Center for ice hocky, basketball games, concerts and other performances and events.
County Glen Neighborhood Directions
To get to the County Glen Neighborhood take 183 north, turn left or west of Crystal Falls and then your first left. You are there!! Enjoy seeing the oversized lots and large trees.