Bridlewood Ranches Horse Properties
Bridlewood Ranches – San Marcos Texas – Hays County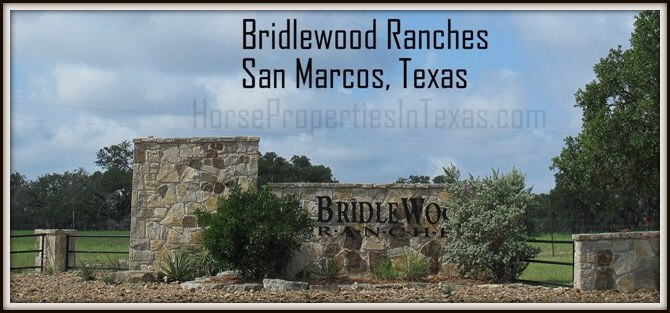 Bridlewood Ranches is an equestrian or horse friendly neighborhood of about 55 acreage estates in rural San Marcos, Texas near Wimberley, Texas in Hays County. Carved out of about 1,600 Texas Hill Country acres, Bridlewood Ranches is also a Recognized Firewise Community. This is important because steps have been taken community wide to prevent fires. Bridlewood Ranches has an active POA or Property Owners Association. The Bridlewood Ranches POA website has a lot of useful information about Architectural Controls, the cattle grazing lease, native wildlife and more. Bridlewood Ranches is on a community grazing lease for a community wide roaming herd of Texas Longhorn cattle. This adds a great Hays County tax savings on owned land at Bridlewood Ranches for property owners. Bridlewood Ranch homes are on wells for water and septic systems for sewer. There are also some homes on rainwater systems for household use and or irrigation. Bridlewood Ranches in rural San Marcos is located southwest of Austin Texas near Wimberley Texas. You will love the Texas Hill Country!
Bridlewood Ranches is located just off Ranch Road 12 in Hays County, Texas west of San Marcos, Texas. Bridlegate Circle, Bridlewood Ranches, Hugo Road and Steeplebrook Drive are the street names in Bridlewood Ranches, San Marcos.
Bridlewood Ranches San Marcos REALTOR
Call Bridlewood Ranches REALTOR Betty Saenz at 512-785-5050 or e-mail Betty Saenz. A Native Texan, Betty Saenz family settled in the Texas Hill Country in the 1800's. My grandfather, Dr. Carl William Raetzsch practiced medicine here in San Marcos in the early 1900's. I love the Bridlewood Ranches community because of many reasons – it is horse friendly, has Texas Longhorns, is Firewise and the Bridlewood POA desires native plants and wildlife habitat.