Apple Springs homes for sale – Leander Texas 78641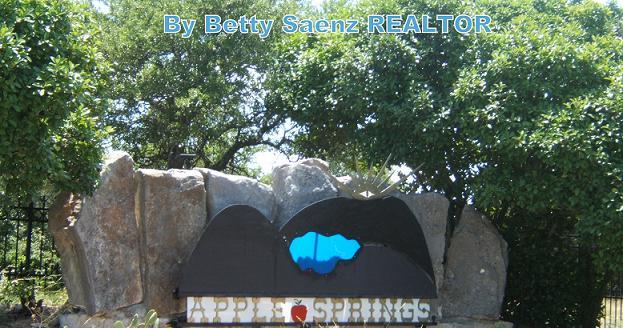 Apple Springs is a restricted acreage subdivision on the west side of rural Leander, Texas in Travis County near Crystal Falls. A wide array of beautiful home styles, fantastic Texas Hill Country views, acreage lots, a wonderful feeling of privacy and sensible restrictions make this a great place to live. Since Apple Springs is a hilly, rural subdivision, most homes cannot see their neighbor or other homes because all homes are on acreage lots.
Apple Springs Leander TX Real Estate
Just to give you and idea of pricing in the Apple Springs subdivision, homes generally started in the $300,000 range. in Apple Springs and went up to around $500,000 around 2009. Most homes are well over 2000 square feet. Prices have changed a lot since then. Check out the map below – Call Betty Saenz (512) 785-5050 or e-mail Betty Saenz today for current availability and pricing.
Apple Springs Lander TX  Life
The homeowner's association is strictly voluntary and ridiculously cheap (like $10.00 or under!). The HOA organizes fun events like community Christmas parties and Halloween celebrations all in a low key, friendly way. There is a wonderful sense of community according to some residents I know. Shopping and services are only about 5 minutes away yet Apple Springs residents may find that they feel like they are living out in the middle of nowhere. The new HEB Plus is located on 2243 and Highway 183. This huge grocery store carries a great line of frozen, fresh and bulk organic products and has a large garden center. One of my Apple Springs sellers even had the HEB bakery bake a special whole grain bread for her on a regular basis. Accross 183 from the HEB Plus is the new MetroRail commuter rail Leander Train Station. Rail service started taking commuters into Austin from the Leander Station in the TOD March 22nd, 2010.
Apple Springs Leander TX Schools
Children in Apple Springs attend Leander ISD public schools or one of the many private schools in the Leander Texas area. There are many private shools and Day Care in Leander. For colleges and universities, Leander will soon have an ACC campus at the Leander TOD or Transit Oriented Development.
Apple Springs Utilities
Apple Springs Water: There is no city water available in Apple Springs, so homes use well water or many homes have total rainwater collection for everything. I have sold 2 homes in Apple Springs with total rainwater collection and believe it or not it works out quite nicely and is becoming increasingly more popular. Rainwater is naturally soft and chlorine free. Private Septic systems are used for sewer under the Travis County regulations.
Apple Springs Leander TX Restrictions
There are no mobile homes, commercial development or hunting allowed in Apple Springs per the Apple Springs Restrictions in the Deed Records of Travis County. There are architectural restrictions but the homes have a wide variety of architectural styles.
Apple Springs REALTOR
I have personally sold homes in Apple Springs and it is such a treat to market them. I just love the Apple Springs neighborhood and would have loved to own and live in the homes I have sold. Call Betty Saenz REALTOR to buy or sell a home in Apple Springs (512) 785-5050 or e-mail Betty Saenz REALTOR.
Apple Springs Leander TX Directions
From Hwy 183, take 2243 (aka Nameless Road/at the light in front of the HEB Plus) west past Bagdad to Apple Springs, approx. 3 miles. Turn left on Apple Springs Drive. One could also take Nameless Road (aka 2243) from 1431 if they were coming from Lago Vista or Cedar Park and did not want to go through Leander.